"The Windsor Castle of the North"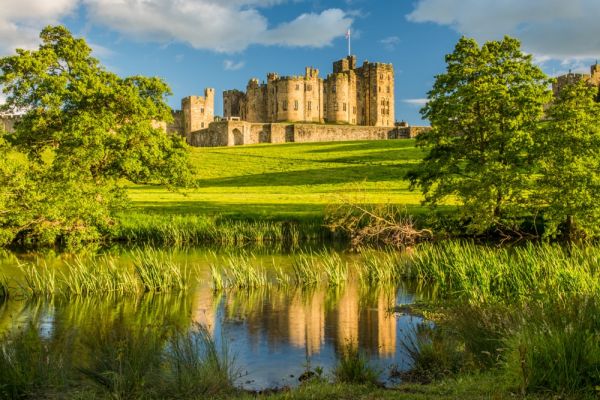 Alnwick Castle, which holds one of the world's most important collections of maps of the American Revolution, was used as a film set for the early Harry Potter movies.
The second largest inhabited castle in England next to Windsor Castle, it overlooks the River Aln in Northumberland, England, about 30 miles south of the border with Scotland. From the time of the Norman Conquest, there has been a castle on the site to hinder Scottish invasions.
Since the 13th Century, Alnwick has been the home of the Percy family and later the Dukes of Northumberland. 
In addition to the Harry Potter films, the castle has appeared in such films and shows as Ridley Scott's Robin Hood, Elizabeth (starring Cate Blanchett), the British sitcom Blackadder, and the Downtown Abbey TV series, among many others.
---
Return to "Rediscovering Hand-Drawn Maps from the Revolution and the English Duke Who Collected Them," by Edwin S. Grosvenor, American Heritage, Summer 2019
Return to "The Treasure of Alnwick Castle," by Elizabeth and William Cumming, American Heritage, August 1969