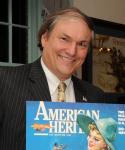 Edwin S. Grosvenor is the Editor-in-Chief of American Heritage and Invention & Technology Magazines. He is also the editor of twelve anthologies of essays that appeared in American Heritage including Men of the Revolution, Hamilton, Lincoln, The Civil War, The Old West,   New York, World War I, Roosevelt, Churchill, and The Vietnam War, as well as anthologies from HORIZON Magazine including The Middle Ages and History's Great Confrontations.
Mr. Grosvenor co-authored a biography of his great-grandfather, Alexander Graham Bell: The Life and Times of the Inventor of the Telephone, published by Harry N. Abrams Inc., and is also the co-author of 299 Things Everyone Should Know About American History.
Previously, Mr. Grosvenor was the President and Editor of Portfolio Magazine, the highest circulation fine arts publication in the U.S. at the time according to the Audit Bureau of Circulation, and a nominee for the National Magazine Award for General Excellence. 
From 1991 to 1995, Mr. Grosvenor was the publisher of the literary magazine, Current Books, which published such authors as Norman Mailer, Bill Moyers, Garrison Keillor, David McCullough, Anne Tyler, and Vaclav Havel. Current Books was distributed in over 4,000 outlets making it one of the most widely distributed book-related publications in bookstores at the time. He also served as president and editorial director of Hotel Magazine Network, Inc., a publisher of magazines for business travelers with a total circulation of 330,000 copies distributed in the rooms of Marriott and Hyatt hotels.
The Grosvenor family founded the National Geographic Society, where Mr. Grosvenor worked as a photographer with assignments in such countries as Belize, Canada, France, Greece, Iceland, Kenya, Spain, Tonga, Turkey and the U.S.
Mr. Grosvenor also serves as the Historian of the Literary Society of Washington. He obtained his MBA and his MS (Journalism) degrees from Columbia University, and his BA from Yale University.
Twitter: @edwingro