The world's most prominent actress risked her career by standing up to one of Hollywood's mega-studios, proving that behind the beauty was also a very savvy businesswoman.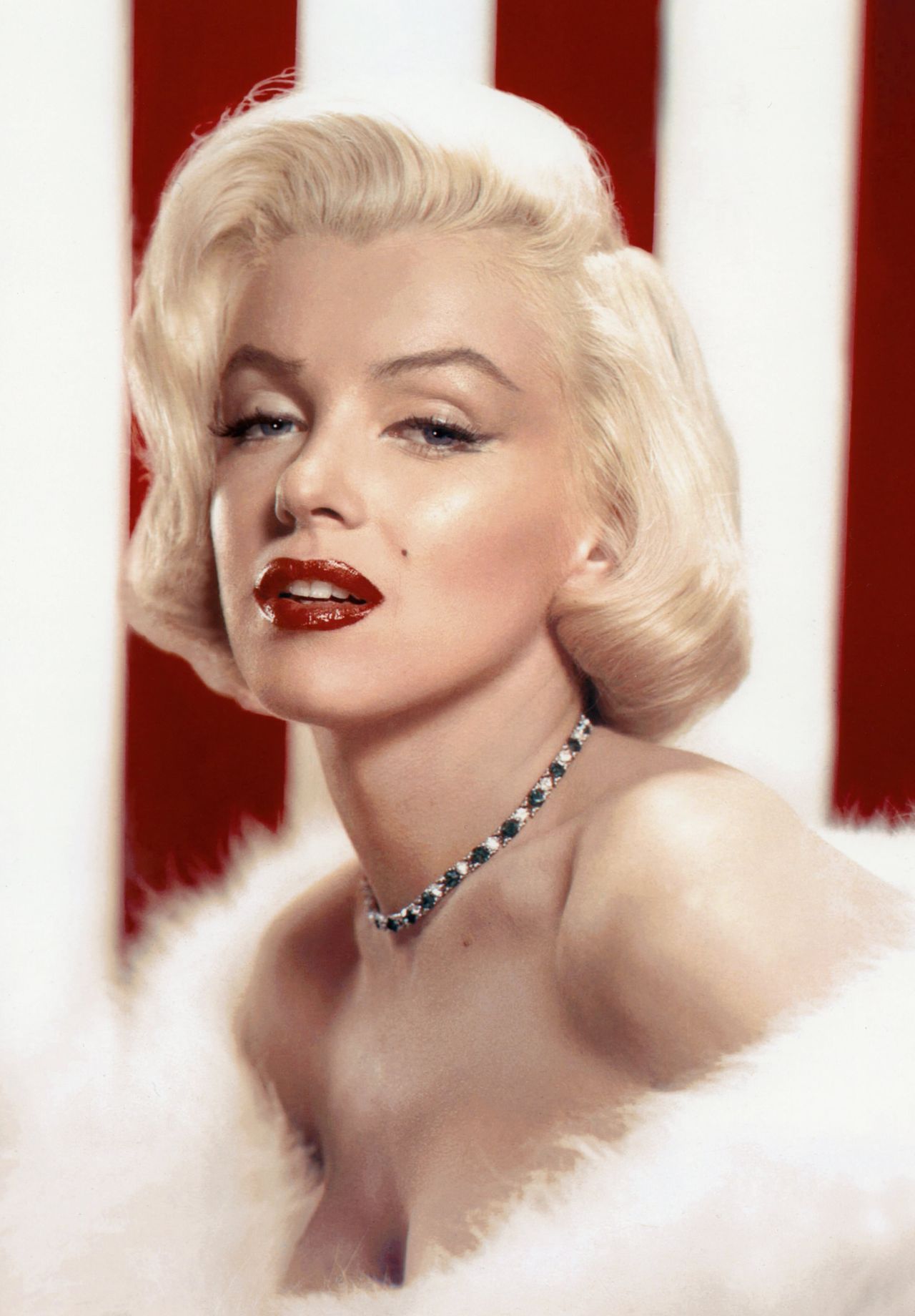 There is an immortal image of Marilyn Monroe that lives in the public mind. We recall the sensuous platinum blonde with lips painted bright red, the iconic beauty mark perfectly situated on her left cheek, and she's wearing a chic low-cut dress that shows off her gorgeous figure and legs. More than six decades after her death at the age of thirty-six, this photo remains omnipresent. 
But, behind the persona so carefully constructed by Monroe, there was a strong and savvy career woman. She knew that the public was entranced by her sexy "dumb-blonde" image, but to her, that was merely acting. When she made the bold decision in the early 1950s to stand up to her studio, 20th Century-Fox, the public realized that the beguiling actress was no pushover. 
Early in 1953, the 26-year-old was growing disenchanted with her six-year acting career. Having been in her contract with 20th Century-Fox, one of Hollywood's "Big Six" studios, for two years, she had acted alongside big-name stars like Bette Davis, Claudette Colbert, and Cary Grant, but the roles she played were hardly fulfilling. She was longing for a strong script, a role that she could sink her teeth into, and navigate away from the characters that the studio forced upon her. 
Behind the persona so carefully constructed by Monroe, there was a strong and savvy career woman.
Monroe hoped that the new year would mark a turning point, and it did, but not in the way she envisioned. Gentlemen Prefer Blondes, released in July 1953 and co-starring Jane Russell, was a box- office hit, grossing around $5 million. That fall, How to Marry a Millionaire, featuring an all-star cast that included Lauren Bacall and Betty Grable, proved to be an even bigger smash, generating more than $7 million. Fox was basking in Monroe's allure. 
That summer, she was invited to leave her mark in cinematic history by placing her hand and footprints in the wet cement at  Grauman's Chinese Theatre on Hollywood Boulevard. Capitalizing on her popularity, Fox decided it was time for the starlet to venture into the flourishing medium of television, and Monroe made her first TV appearance on the new season of The Jack Benny Show in September. She portrayed the "dream girl" that Benny had met on a ship returning home from Hawaii, serenading him with "Bye, Bye Baby" in her trademark, sweet, childlike voice. The show's ratings went through the roof.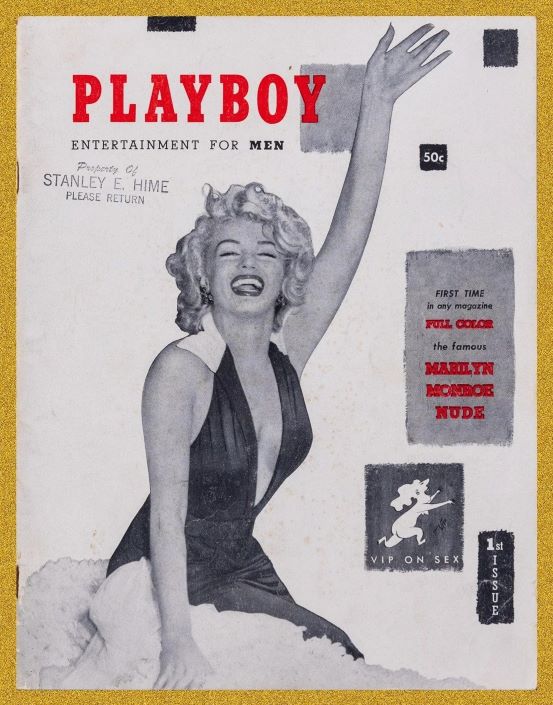 Although her career had catapulted, Monroe was concerned about its trajectory. Her characters Lorelei Lee in Gentlemen Prefer Blondes and Pola Debevoise in How to Marry a Millionaire were the quintessential ditzy blondes, all beauty, but no brains. The image that she was constantly portraying on-screen led the public to believe that Monroe was merely playing herself. She grew increasingly frustrated with Fox for not taking her seriously as an actress. 
Then, in December 1953, Hugh Hefner's Playboy magazine hit the stands for the first time. The cover featured a photo from Monroe's appearance at the 1952 Miss America pageant parade, showing her in a stylish, deep V-neck dress. The centerfold was a nude photo of her taken in 1949 by a pinup photographer named Tom Kelley. At the time, she was a struggling young actress, and she later admitted to needing the promised $50 to pay a car bill. 
With the public now aware of these photos, Fox urged the star to deny their authenticity; instead, she acknowledged that the girl seen in the newly published magazine was indeed herself. The uproar caused by the Playboy incident proved to be a double-edged sword. The attention boosted Monroe's popularity and simultaneously cemented her reputation as a sex symbol.
With the public now aware of these photos, Fox urged the star to deny their authenticity; instead, she acknowledged that the girl seen in the magazine was indeed herself.
Although Monroe was Fox's top star, her contract had not changed since 1951, and she was making notably less money than her colleagues. What was more infuriating was the fact that she had no say in choosing her projects or co-stars. Finally, she approached Darryl F. Zanuck, the president of 20th Century-Fox, and asked for a more serious role. Seeing no logical reason to change a formula that was working so well for the studio, he rejected her request. Soon after, the script for a film titled The Girl in Pink Tights arrived. It was another musical comedy, this time pairing her with Frank Sinatra.
Realizing that Fox would not give her the type of roles that she was asking for, she decided to protest. On December 15, 1953, she failed to show up on the set for her first day of work on the film. Zanuck was incensed, and on January 4, 1954, he suspended her. Intending to come out of this dispute on top, Monroe made the calculated decision to embark on a publicity tour that would boost her public appeal.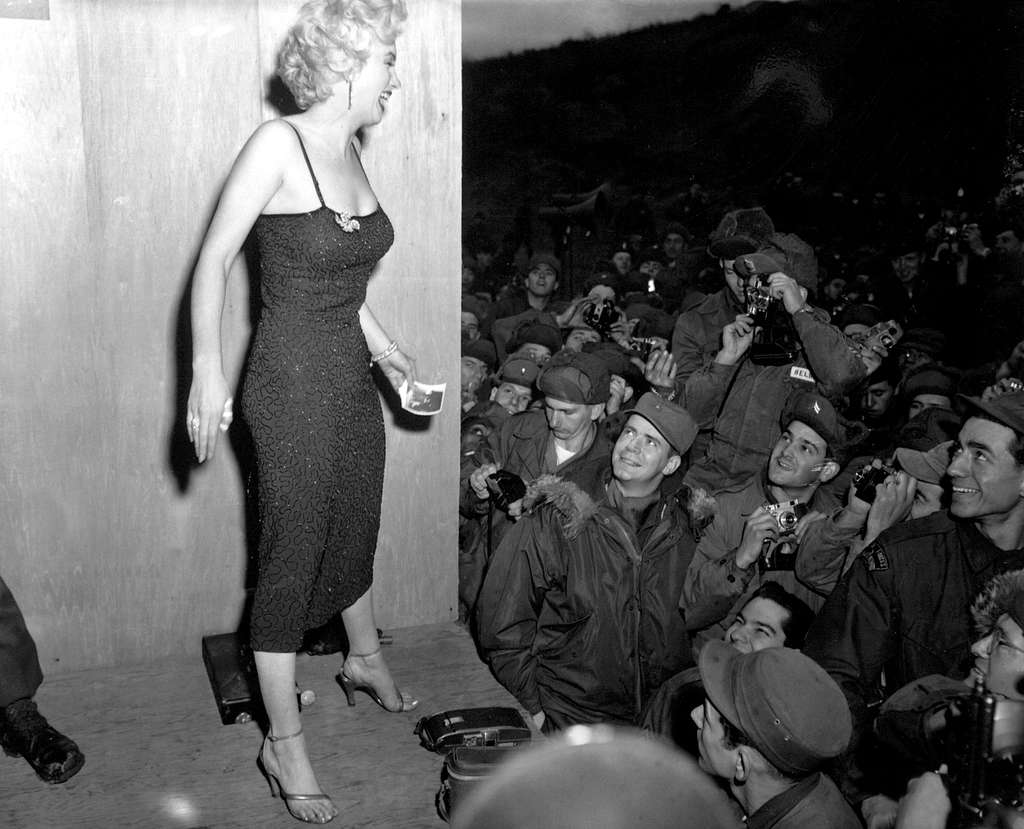 She began by eloping with her boyfriend of two years, the legendary New York Yankee, Joe DiMaggio, in San Francisco on January 14th. The press went wild over the news, hailing the union as "the marriage of the decade." After honeymooning in Japan, Monroe traveled to South Korea with the United Services Organization (USO) to entertain an estimated 100,000 troops. The G.I.s cheered ecstatically for the starlet, who wore a skin-tight purple dress and performed a show she swiftly put together called "Anything Goes." 
There was no denying that Monroe was outmaneuvering the mammoth Fox studio. 
This would be remembered by her as "the best thing that ever happened to me. I never felt like a star before in my heart." Upon returning home, she received the "Most Popular Female Star" award from Photoplay. There was no denying that the clever actress was outmaneuvering the mammoth studio.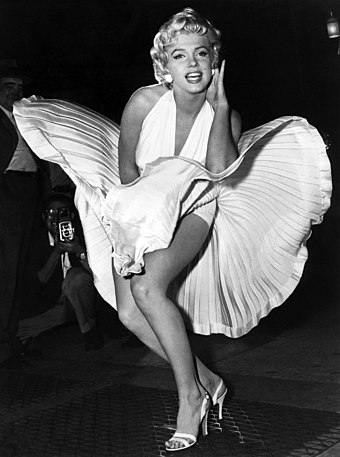 In March, Fox finally caved to some of her demands and negotiated a new contract. She agreed to appear in The Seven Year Itch, so long as Fox gave her a $100,000 bonus. River of No Return, co-starring her longtime friend Robert Mitchum and directed by the brilliant Otto Preminger, was released after her return. Though it did well at the box office, several issues plagued its filming, and Monroe claimed it was her worst movie. To star in The Seven Year Itch, and because she had dropped The Girl in Pink Tights, she acquiesced to making There's No Business Like Show Business, a musical starring Ethel Merman and Donald O'Connor. Her performance in the movie was panned by critics and she detested the picture. 
Shooting for The Seven Year Itch, co-starring Tom Ewell, began in September. With the esteemed director Billy Wilder at the helm, Fox arranged for a massive publicity stunt in New York, filming a scene with Marilyn standing over a subway grate while the skirt of her ivory-white William Travilla cocktail dress flew up and exposed her thighs and panties. The world was bewitched by what would become one of the most iconic images ever captured, but DiMaggio was deeply uncomfortable with the overt sexualization of his wife, and he assaulted her in their hotel room after this photo shoot.
The Seven Year Itch turned out to be a colossal success for Monroe, but the movie only widened the cracks that were already appearing in her second marriage. After ten months, the celebrated union between the dashing baseball player and the exquisite star came to an end. In her divorce filing, she accused DiMaggio of "mental cruelty."
Once production on The Seven Year Itch came to an end, Monroe decided to move to New York to start her life anew and to launch a new chapter as a businesswoman. On December 31, 1954, she and her close friend, photographer Milton Greene, announced the creation of their own production company, Marilyn Monroe Productions. In a Person to Person interview conducted with Greene and his wife Amy at their Connecticut home, Monroe told host Edward R. Murrow, "It's not that I object to doing musicals and comedies…but I'd like to do dramatic parts, too." Fox was incensed by her latest assertion of independence and again suspended their most profitable star. 
On December 31, 1954, Monroe and her close friend, photographer Milton Greene, announced the creation of their own production company, Marilyn Monroe Productions.
It did not take long for the studio to begin ramping up its efforts to win Monroe back, but Greene and her lawyers made it clear that she would not give in to their demands. Finally, an agreement was reached: Monroe would be given more say over what scripts she said yes to, as well as who the director and cinematographer would be. Additionally, her pay was increased to $100,000 per film, and she only had to commit to making four pictures for the studio over the next seven years. As a bonus, Fox permitted her to film a movie for Marilyn Monroe Productions after she completed one of their pictures. This was not only a monumental victory for the 29-year-old actress, but also for her peers.
After completing Bus Stop, the first picture she did with Fox under her new contract, on June 29, 1956, she surprised the world by marrying the playwright Arthur Miller, author of Death of a Salesman and The Crucible, in White Plains, New York. Once again, she had defied her studio, and even the press tore into her for marrying a leftist like Miller. Variety ran the headline, "Egghead Weds Hourglass." After it was announced that Monroe had converted to Judaism, her new husband's faith, her films were swiftly banned in Egypt.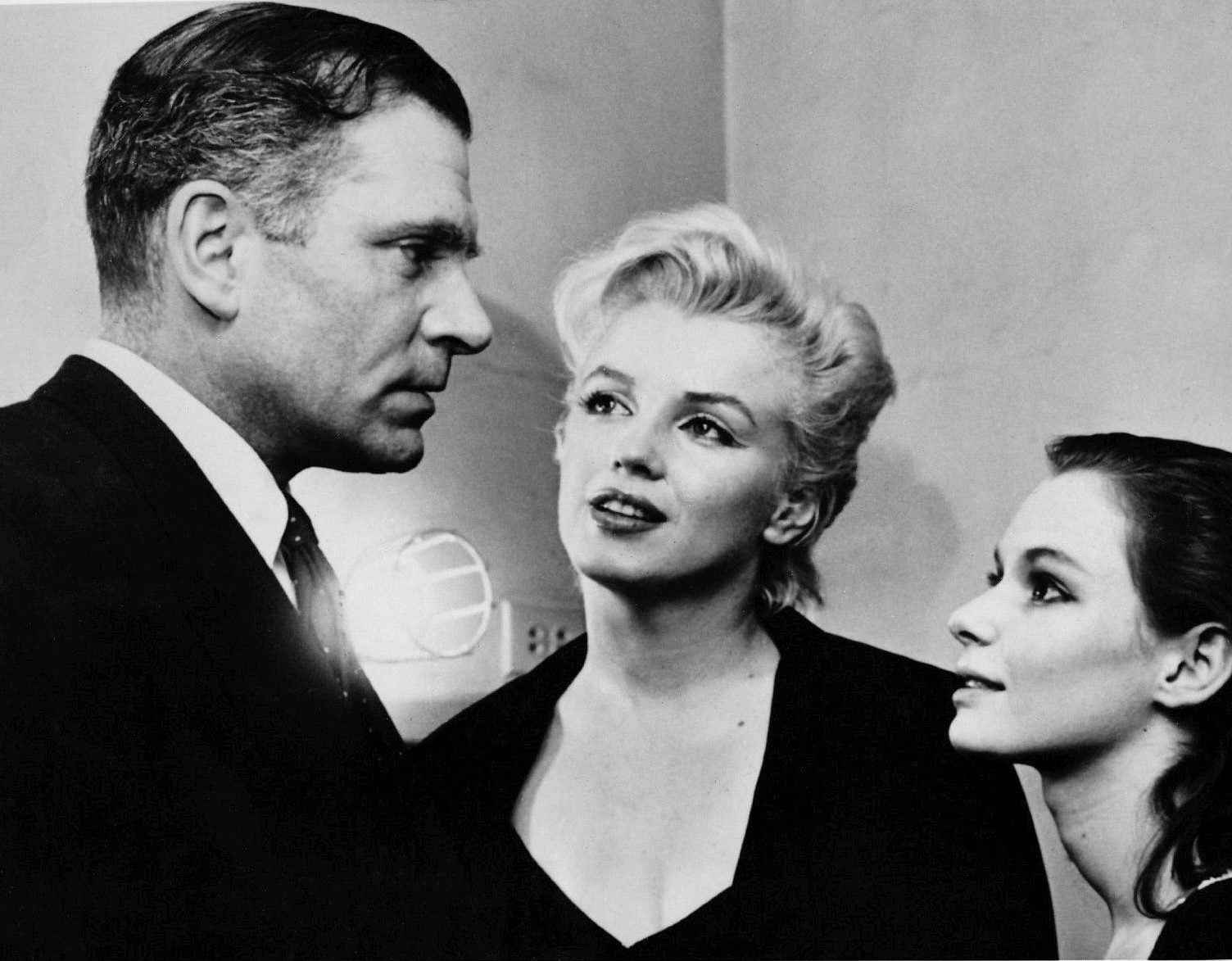 Professionally, Bus Stop allowed Monroe to showcase the techniques taught to her by the brilliant acting coach, Lee Strasberg, at his celebrated Actors Studio in New York City. She perfected an Ozark accent for the part of Cherie, a saloon singer who dreamt of an illustrious career. The director Joshua Logan was amazed by her performance. Critics were impressed with Monroe's growth as an actress, with one writing that Bus Stop "effectively dispels once and for all the notion that she is merely a glamour personality."
Bus Stop "effectively dispels once and for all the notion that she is merely a glamour personality."
In the late summer of 1956, Monroe and Miller flew to London to begin filming Marilyn Monroe Productions' first independent picture, The Prince and the Showgirl. The debonair English actor Laurence Olivier was signed as her co-star, and, from the onset, he set unrealistic expectations for Monroe's portrayal as Elsie Marina, and made various comments that she found condescending. Behind the scenes, other tensions bubbled to the surface. Monroe was clashing with Greene over how Marilyn Monroe Productions should be run, and there was a conflict over her new husband joining their small team.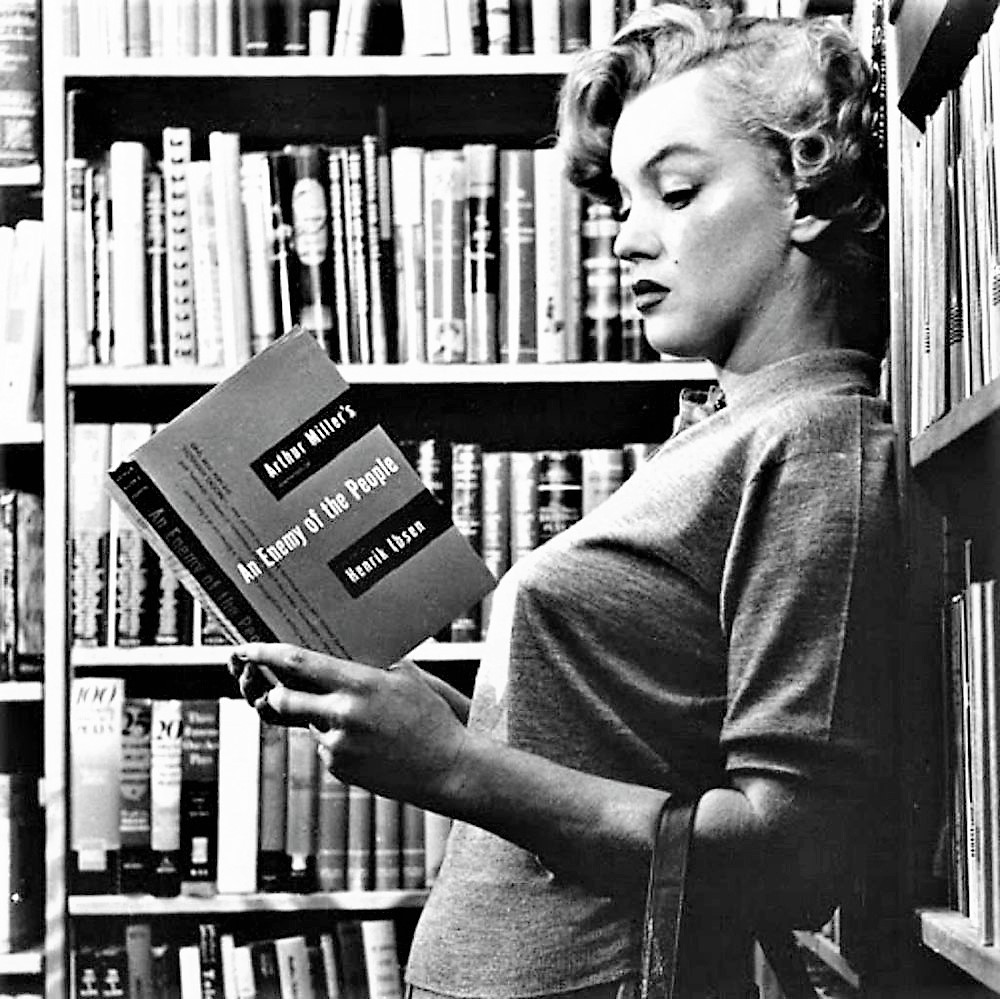 Dealing with serious anxiety, depression, and a lack of sleep, Monroe's dependency on prescription pills increased. Her condition was worsened by a physically and emotionally painful miscarriage that occurred during the filming. As a result, she was not able to deliver the caliber of work that was expected, making it a difficult work environment for everyone involved. The Prince and the Showgirl was not the box office hit that Monroe and Greene had hoped for, and it was the only independent film produced by Marilyn Monroe Productions. An exhausted Monroe opted to take at least a year off from making movies, and Fox did not contest her decision. The star had earned control of her career; now, she needed to take control of her life.
Monroe's remaining years, plagued by addiction and profound sorrow, with fleeting moments of success, have been thoroughly explored in the decades since her death. Yet her victory over Fox, which attempted to exercise nearly complete control over her life, is largely neglected. 
Monroe's remaining years have been thoroughly explored in the decades since her death, yet her victory over Fox is largely neglected. 
Monroe broke free from the constraints imposed upon her. She took command of the career she had worked tirelessly to build. And she was finally given some of the respect that she was due. 
TIME acknowledged her as a "shrewd businesswoman," while the Los Angeles Mirror proclaimed her victory to be "one of the greatest single triumphs ever won by an actress." To the harsh critics who had depicted her as a daft sex symbol, Monroe proved that she was anything but a dumb blonde.