One hundred years ago this month, the "House That Ruth Built" became the first true baseball stadium.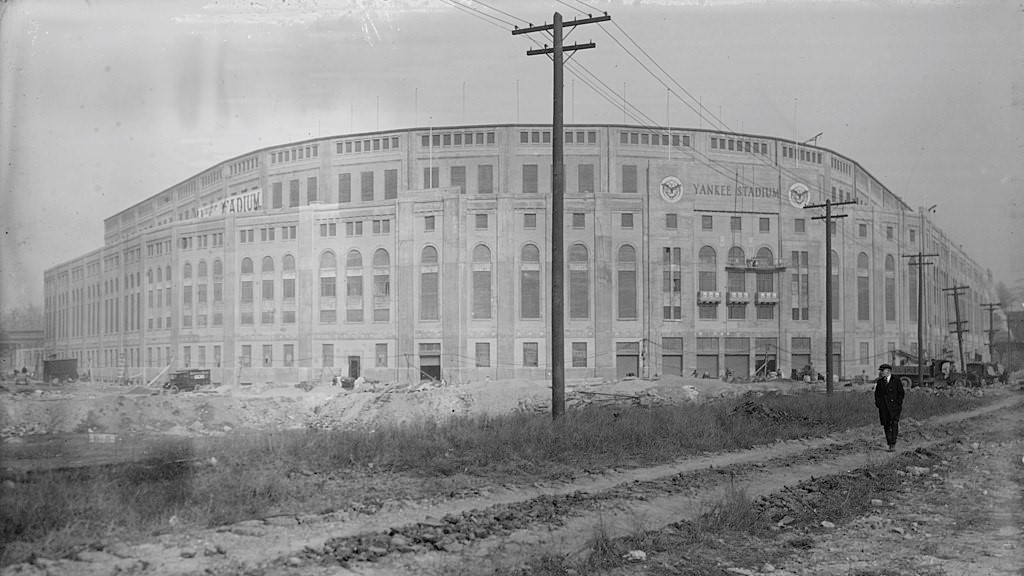 Editor's Note: Bruce Watson is a writer, historian, and contributing editor of American Heritage. You can read more of his work on his blog, The Attic.
The Bronx, February 14, 1922 — A beefy man steps into a lumber yard frosted with snow. Wielding a hefty bat, he takes off his overcoat and turns to face a reporter. The reporter throws ball after ball, and Babe Ruth slugs them deep, deep over the snowy expanse. The House that Ruth Built, still a blueprint, but not a ballpark, has been christened.
A century of Aprils ago, the New York Yankees opened a ballpark like none before or since.
A century of Aprils ago, the New York Yankees opened a ballpark like none before or since. With its towering tiers, copper frieze, and galactic dimensions, Yankee Stadium was "the cathedral of baseball." Hosting heroes from Babe Ruth to Mickey Mantle, from Pelé to Muhammad Ali, plus boxing matches, papal masses, and more, Yankee Stadium was an American institution.
These days, stadiums are funded by taxpayers, but brewer Jacob Ruppert bankrolled the biggest ballpark in America with $2.5 million ($34 million today) in cash. Play ball!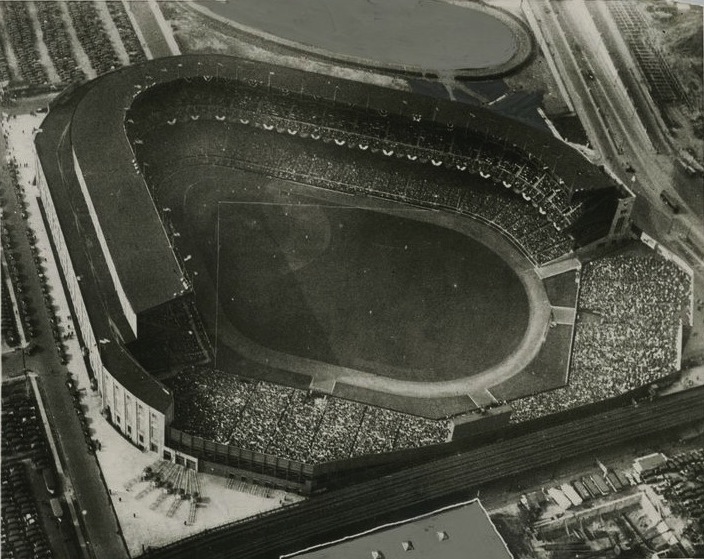 The son of German immigrants, Ruppert turned down college to wash barrels in his father's brewery. Rising to eventually run the brewery, he later served in Congress. By 1912, he was looking to buy a baseball team. He turned down the Cubs, couldn't get the Giants, had to settle for the game's lowliest team.
Playing in Hilltop Park in upper Manhattan, the New York Highlanders had a long string of losing seasons. Dynasty? Hah!
But Ruppert saw possibilities and bought the team in 1915. Four years later, in a deal we Red Sox fans will NEVER forgive, he bought a franchise named Babe Ruth.
Pennants, home run records, and crowds followed. But the Yankees had to share the Polo Grounds with the hated Giants.
In late 1921, when the Giants raised his rent, Ruppert went looking for land. He considered north Harlem and the West Side before finding a ten-acre lumberyard in the Bronx.
Christened by Ruth's home runs in the snow, Ruppert's park broke ground in May 1922. Over the next ten months, 500 workers hoisted two million pounds of steel, poured 45,000 barrels of cement, and outlasted heavy rains and a railroad strike. On April 18, 1923, the park was ready.
Here was the first ballpark to be called a "stadium." Here was a field of dreams.
Fans began streaming in at noon. Twenty thousand were turned away. Striding into the park, even old-timers became boys again. Here was the first ballpark to be called a "stadium." Here was a field of dreams.
Other parks were "ballfields" seating 15,000, 20,000, perhaps 30,000. But Yankee Stadium's three soaring tiers had 70,000 seats. Hundreds of pillars were crowned by a 15-foot copper frieze rimming the field. That frieze, Sandy Koufax later said, "made you feel as though you were playing in the Grand Canyon."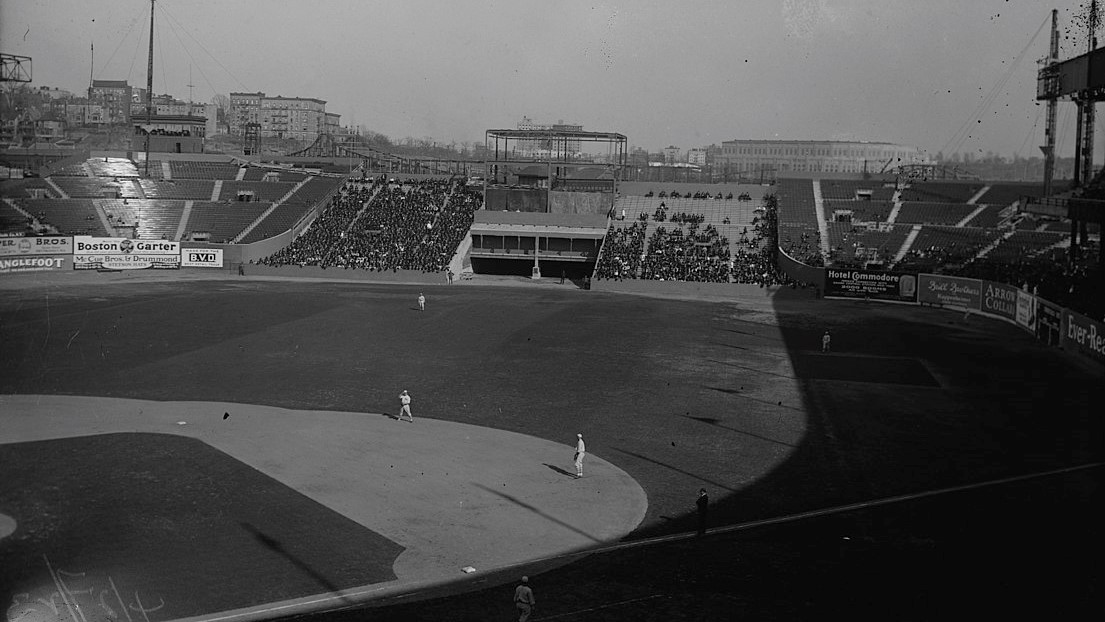 The field was smaller — and larger — than any other. Just 250-some feet down each line, the outfield sprawled into what players called Death Valley, with the centerfield wall 490 feet from home plate. Ruppert had built it. Fans came.
Swinging big, drinking big, living big, Babe Ruth embodied the age.
Opening ceremonies included an orchestra led by John Philip Sousa. "Everything smelled of fresh paint, fresh plaster, and fresh grass," a reporter wrote. Players wore no numbers, but everyone recognized the man most had come to see.
Swinging big, drinking big, living big, Babe Ruth embodied the age. Though he quipped that the new stadium was "some ball park," he told teammates, "I'd give a year of my life to hit the first home run here."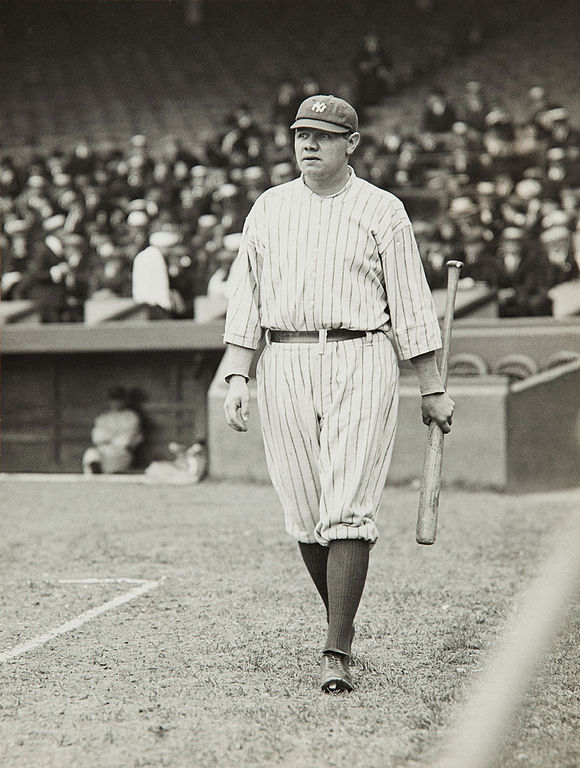 Third inning, two men on, Ruth at bat. He swings and the ball lands 20 rows back in the right field bleachers. The Yanks went on to beat (who else?) the Red Sox 4-1.
Come fall, the Yankees won their first World Series. They would win 25 more at Yankee Stadium, so dominant that rooting for them was compared to "rooting for General Motors." Decade after decade, Yankee Stadium was star-studded with legends. Beyond Ruth, the stadium hosted Lou Gehrig (and his noble farewell speech), Joe DiMaggio and his streak, and Mickey Mantle, who one night in 1963 crushed a ball that soared up, up, smashing off the copper frieze, 117 feet high and 500+ feet from home plate.
But The House that Ruth Built was not just for baseball. During its 85 years, the stadium hosted college football, including Knute Rockne's locker room "win one for the Gipper" speech. The NFL's New York Giants drew fans, as did heavyweight boxing matches, including Joe Louis beating Max Schmeling as Adolf Hitler tuned in from Berlin.
Other owners resented the Negro Leagues, but Jacob Ruppert welcomed them. Yankee Stadium hosted hundreds of Negro League games, including twenty starring Satchel Paige. Pelé played exhibition soccer. Muhammad Ali kept his crown.
The biggest crowd, however, was not for sport. In 1958, 123,000 Jehovah's Witnesses filled the field for a convention. The stadium also hosted three masses by popes, and concerts by Billy Joel and Pink Floyd.
Anniversaries came and went. On the 25th, Ruth, battling throat cancer, spoke to the crowd in a gravely voice. When he died that August, his body lay in state near home plate. A hundred thousand filed past.
By the 1970s, Yankee Stadium was showing its age. The old park was demolished in 2010.
But, like ballplayers, ballparks grow old. By the 1970s, Yankee Stadium was showing its age. Chunks of concrete fell, luckily during off hours. Renovation saved the stadium, but at a huge cost. Gone were the frieze, the pillars, the cathedral.
The renovated stadium hosted new championships, new legends. Then, in 2008, a final game brought down the house. Babe Ruth's daughter threw out the first pitch. Catcher Jose Molina hit the final home run. And, with a 7-4 win, the last of 6,571 games at Yankee Stadium ended.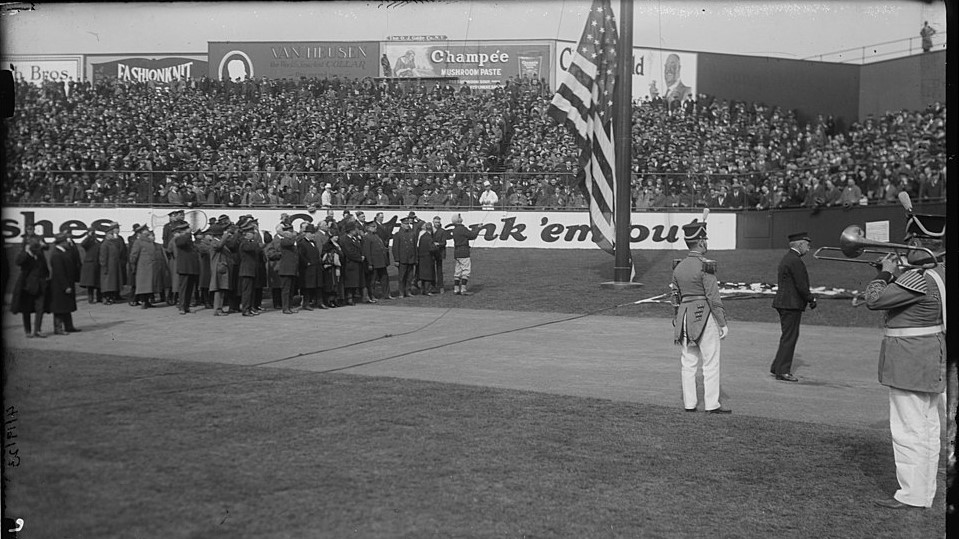 A new Yankee Stadium was built across the street. The old park was demolished in 2010.
In his essay "The Green Fields of the Mind," former commissioner A. Bartlett Giamatti summed up the allure of the game, and perhaps the fate of all dream fields: "It breaks your heart. It was designed to break your heart. The game begins in the spring, when everything else begins again, and it blossoms in the summer, filing the afternoons and evenings, and then, as soon as the chill rains come, it stops and leaves you to face the fall alone. . .  (But) I need to think something lasts forever, and it might as well be that state of being that is a game; it might as well be that, in a green field, in the sun."