The newly renovated replica of the historic ship was expected to make a celebratory journey home this summer, but COVID-19 had different plans.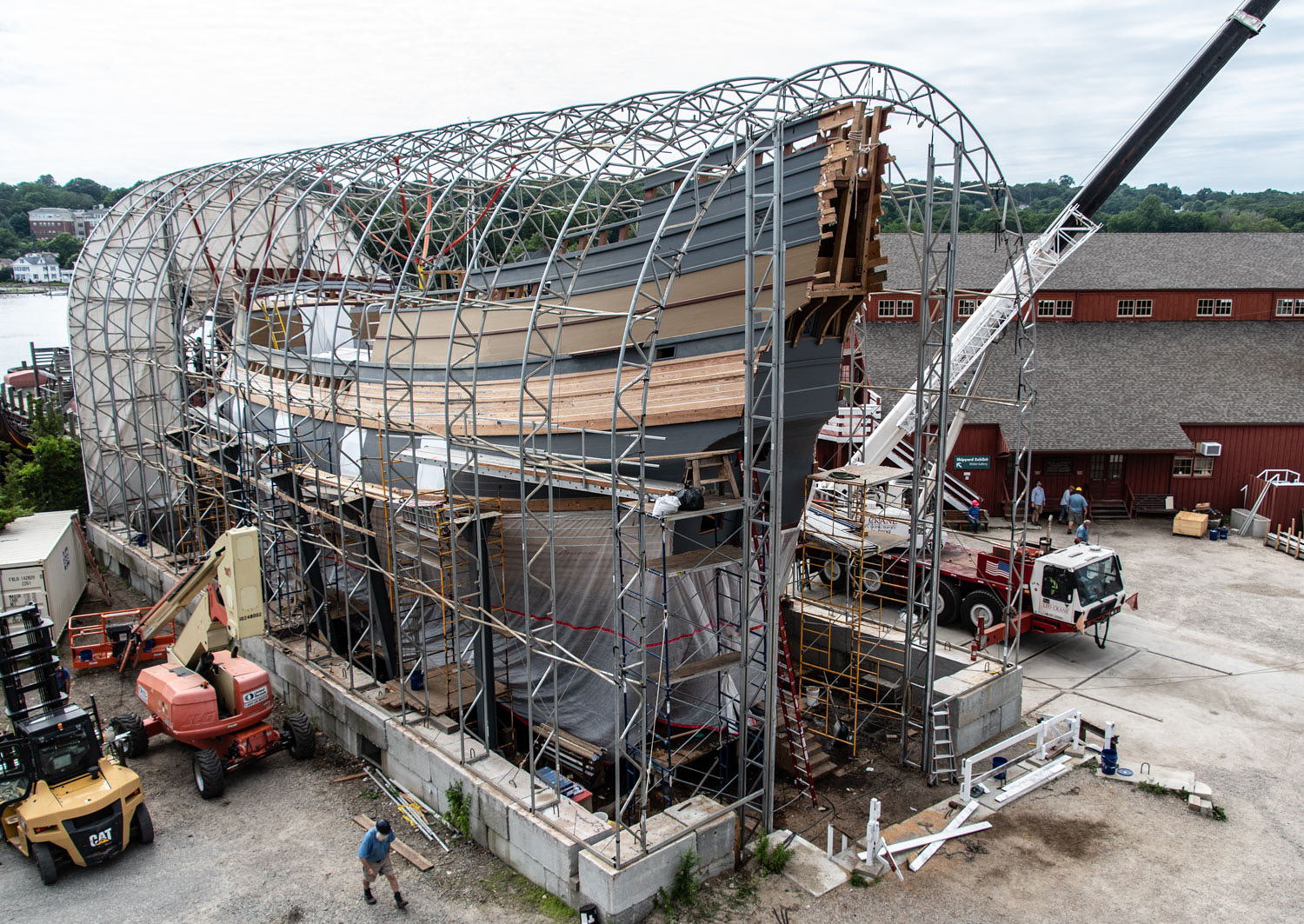 As Nathaniel Philbrick makes clear in his cover story in American Heritage this month, few events in American history were as fraught with hardship and surprise as the maiden voyage of the Mayflower. Delays set the ship's departure back nearly a month in 1620, forcing it to set sail from England in September rather than August.
Disease and hunger quickly befell its 102 passengers, many of whom had already spent a grueling month aboard the cramped vessel. Fierce storms lashed the ship itself as it made its way across the Atlantic, ultimately driving it far north of its intended destination in Virginia to its final arrival in Massachusetts. 
So perhaps it makes sense that the story of the Mayflower — which continues today with the Mayflower II, a full-scale replica of the 17th century ship that made the same voyage in 1957 — was appended this year by another unanticipated event. After undergoing $11.2 million in renovations over the last three years in Mystic, Connecticut, the Mayflower II was slated to make a celebratory journey home in April when COVID-19 plunged much of the East Coast into lockdown. The pandemic forced the cancellation of many of the stops the ship planned to make along the way, including a visit to Newport, Rhode Island, where officials had imposed coronavirus-related travel restrictions over the summer. 
Few events in American history were as fraught with hardship and surprise as the maiden voyage of the Mayflower.
Also cancelled was a debut event in Boston Harbor, where the Mayflower II was scheduled to arrive alongside the USS Constitution for a much-anticipated maritime festival marking the 400th anniversary of the original vessel's journey. 
Instead, the ship returned to Plymouth Harbor in early August to quieter fanfare. "The story of the Mayflower and her passengers is one of incredible persistence and determination," said Stephen Brodeur, chair and founding sponsor of Mayflower Sails 2020, the organization in charge of the commemoration. "These attributes live on in Massachusetts today and will serve us well as we face this challenge together." 
The Mayflower II will remain on display and open to the public at its berth at State Pier in Pilgrim Memorial State Park. While the vessel's original keel remains, nearly 75 percent of it is new, including over 20,000 board feet of fresh Danish white oak along its hull. Other updates include new rigging, sails, and a state-of-the-art fire suppression system on board. The three-year restoration effort was led by Quentin Snediker, Director of the Henry B. duPont Preservation Shipyard at Mystic Seaport Museum, and Whit Perry, Director of Maritime Preservation and Operations for Plimoth Plantation.