A curious story of religion, sex, and baseball grew out of a long-forgotten postcard among her grandmother's belongings.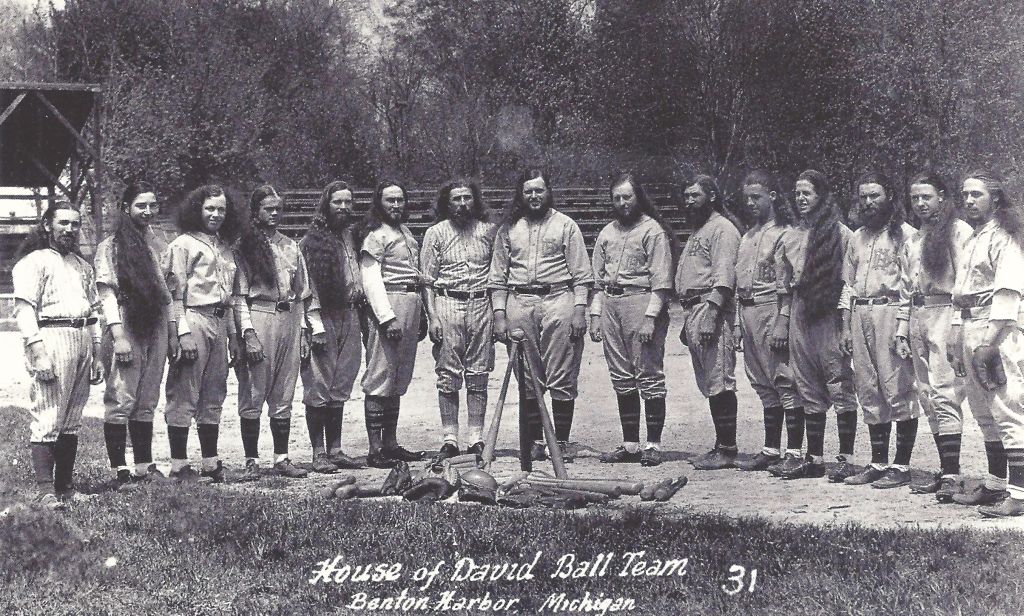 While cleaning out my grandmother's home, my mother and I came across a sepia-tone postcard tucked among a pile of old photos. The postcard featured 15 remarkably hairy baseball players. Underneath the players the words: "The House of David Ball Team. Benton Harbor, Michigan. 31."
Knowing that my grandmother, by then in a nursing home and suffering from dementia, wouldn't be the best resource for information, I took to Twitter to share my discovery. Many were just as curious as I was, but a handful knew who the House of David Ball Team was, and they shared with me stories of the dark, intriguing history behind the players and the religious commune of which they were members.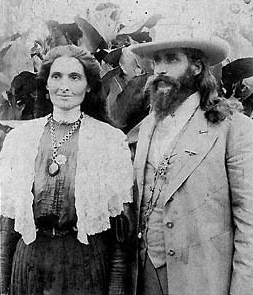 The House of David was founded in 1903 by husband-and-wife preachers Benjamin and Mary Purnell. Purnell thought of himself as the 7th messenger of God, and his wife the co-messenger. Inspired by the belief that Jesus would return and restore The Garden of Eden, the Purnells practiced strict principles: grow your hair long, stay clear of dead people and abstain from wine, meat, and sex. 
After traveling the Midwest throughout the late 1800s and getting turned away from various communes and towns for their unique ideals — the corpse-fearing couple was banished from Fostoria, Ohio, for not attending the funeral of their daughter who was killed in firecracker factory explosion — they finally settled in Benton Harbor, Michigan, roughly 100 miles east of Chicago along Lake Michigan.
It was in Benton Harbor that the House of David blossomed, and their followership grew to nearly 1,000 and their acreage to 100,000. Purnell was a believer in strong work ethic and generating income, so he quickly devised ways to busy his followers and turn his commune into a money-making machine.
The cult's Eden Springs amusement park was the Midwest's premiere tourist attraction during the first half of the 20th century.
In a short period of time a public zoo, garden, resort, dairy farm, restaurant, arcade, movie theater, bowling alley, amphitheater, and the world's largest miniature locomotive popped up on the House of David grounds. They named their new amusement park Eden Springs, and during the first half of the 20th century, it was the Midwest's premiere tourist attraction. To this day Mid-Westerners old enough to remember the park proudly share their fond memories.
The House of David was also industrious in the making and distribution of everything from ice cream and grape juice to string instruments and jewelry. It is believed that the cult invented the waffle cone, first introduced at the 1904 World's Fair in St. Louis. 
Another byproduct of the commune's energy and entrepreneurship was the House of David Ball Team, formed in 1913. The long-bearded men dedicated themselves to the sport and by the 1920s, the team was well known across America. They played everyone from the major leagues to the popular Negro Leagues, and they delighted audiences with their baseball tricks a la Harlem Globetrotters.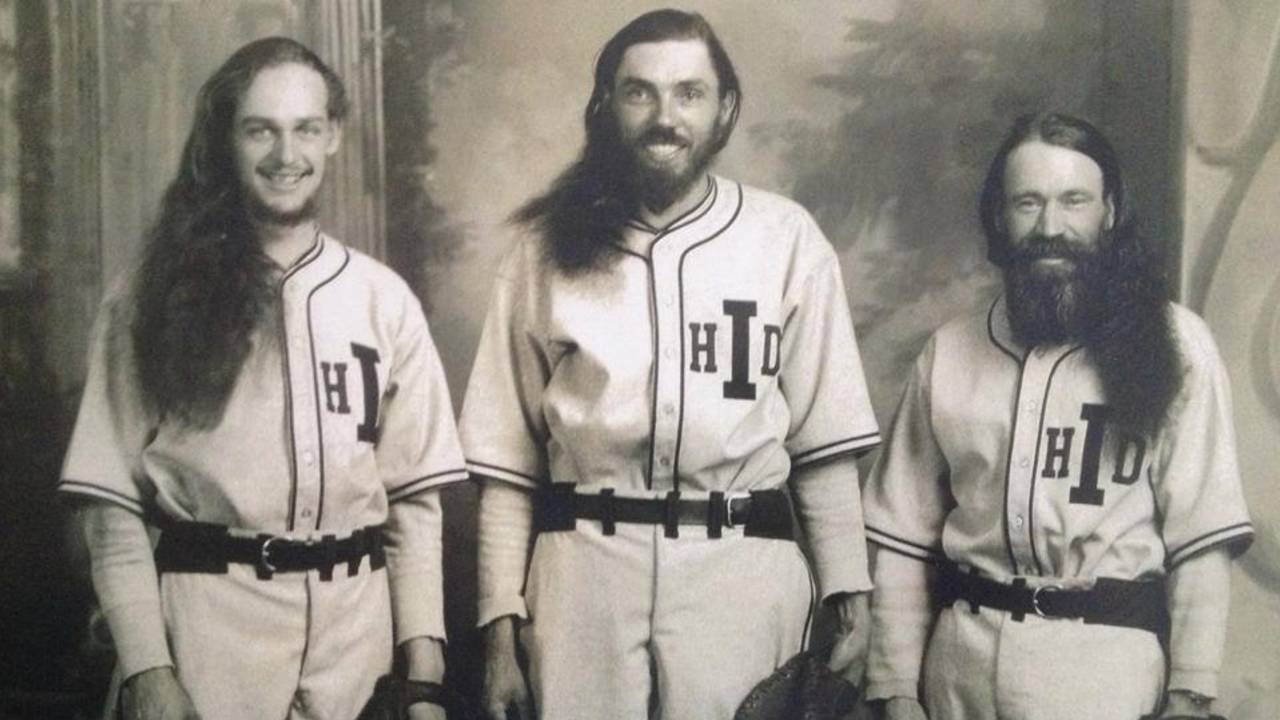 Their barnstorming team became so popular that they created two more, including the all-black Black House of David Ball Team, and they often recruited professional baseball players like Babe Ruth and Satchel Paige to sub in for a game or two. Spectators near and far came to watch the boys play across America, and the House of David teams remained a popular attraction until the 1950s. I'd like to think while growing up in the greater Chicago era, my young grandmother, with bows in her hair and no idea that she would one day be 91 and sitting in a nursing home, attended a House of David baseball game and procured her postcard.
For decades the Purnells and the House of David prospered, but a scandal divided the commune.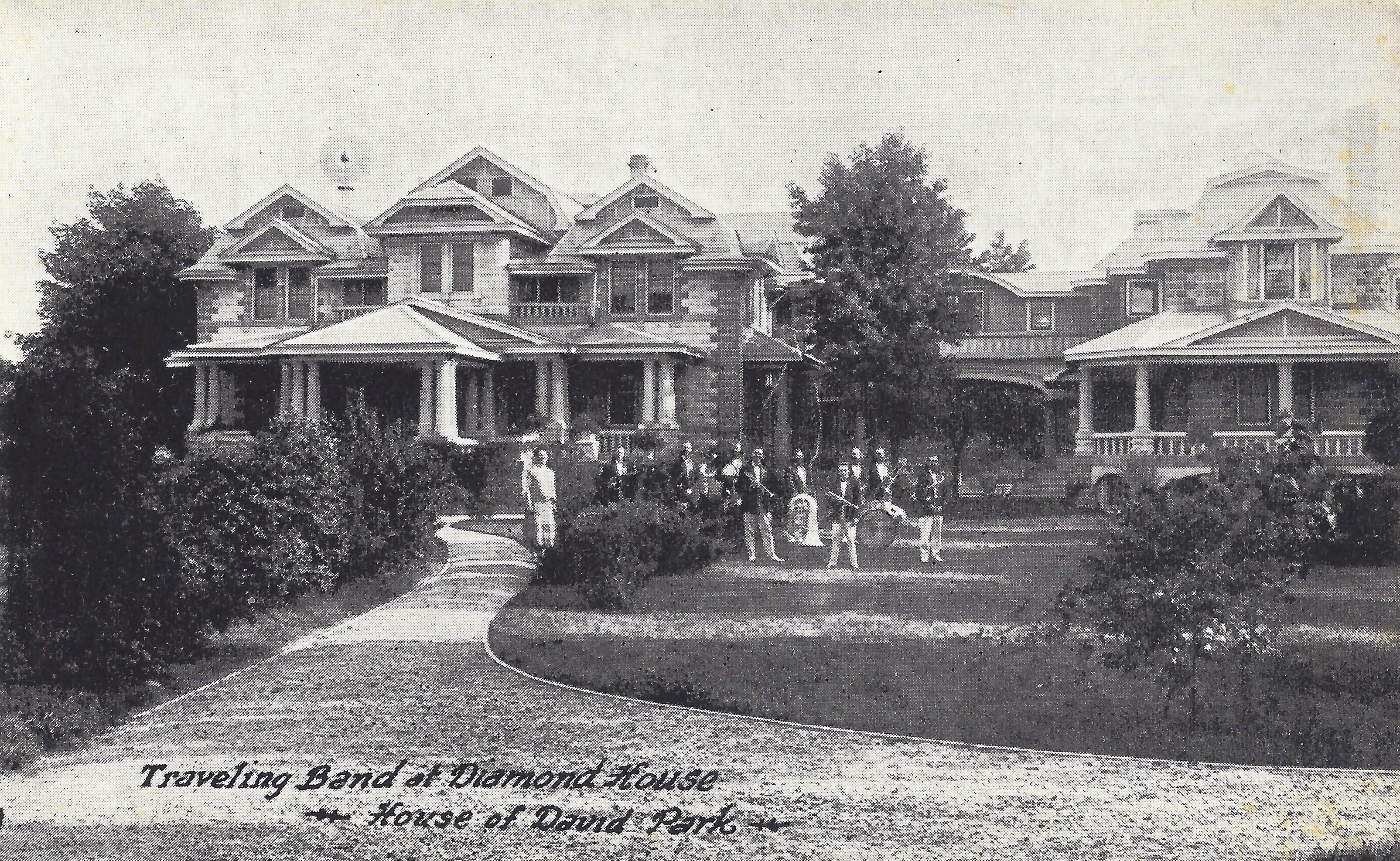 Rumors surfaced that Benjamin had had sex with female minors of his commune. By the 1920s, over a dozen women had come forward.
The press admonished Purnell for his sins and hypocrisy, and he was charged with a variety of crimes including "having sexual relations with women and girls as a religious rite" and "defrauding his followers." The disgraced leader died in 1927 before he could be charged for his crimes. Living followers and townspeople believe Benjamin was the victim of false allegations meant to remove him from power or take down the House of David. In 2003, one of the few remaining House of David members wrote in the Southwest Michigan paper The Herald Palladium that "yellow journalism" falsely convicted Purnell and that based on testimonies from commune members, Purnell was innocent of his sex crimes.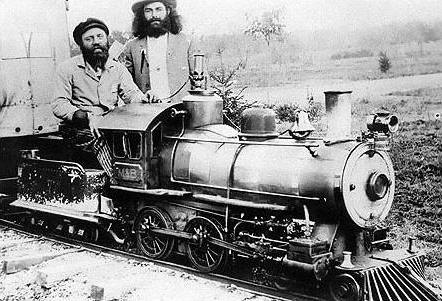 Though the judge tried to break up the commune, the House of David lived on. Mary Purnell and the head of the commune's board of directors, Judge T.H. Dewhirst, fought over leadership, and Mary eventually separated from Dewhirst and formed her own sect, Mary's City of David, next door. Both communes still exist today and are home to a few remaining members. Mary's City of David offers an in-depth museum which you can visit by appointment.
Tourists curious about the commune and baseball league can learn more at the House of David Museum, located in nearby Saint Joseph, Michigan.
As for Eden Springs, that too still exists today, though not in its original scope. Shuttered in the 1970s, the park is now being rehabilitated by volunteers who want to see the park fully restored. Attendees can enjoy the park's original miniature locomotive or catch vintage baseball games in the summer.
An interesting footnote: In 1972, Benjamin and Mary's great-grandson, David, was found guilty of stabbing and killing 20-year-old Janet Uland. Though not a member of his great-grandparent's commune and known to be an unreliable storyteller, David claimed there was buried treasure on the House of David grounds. David died of natural causes at the age of 59 while serving a life sentence.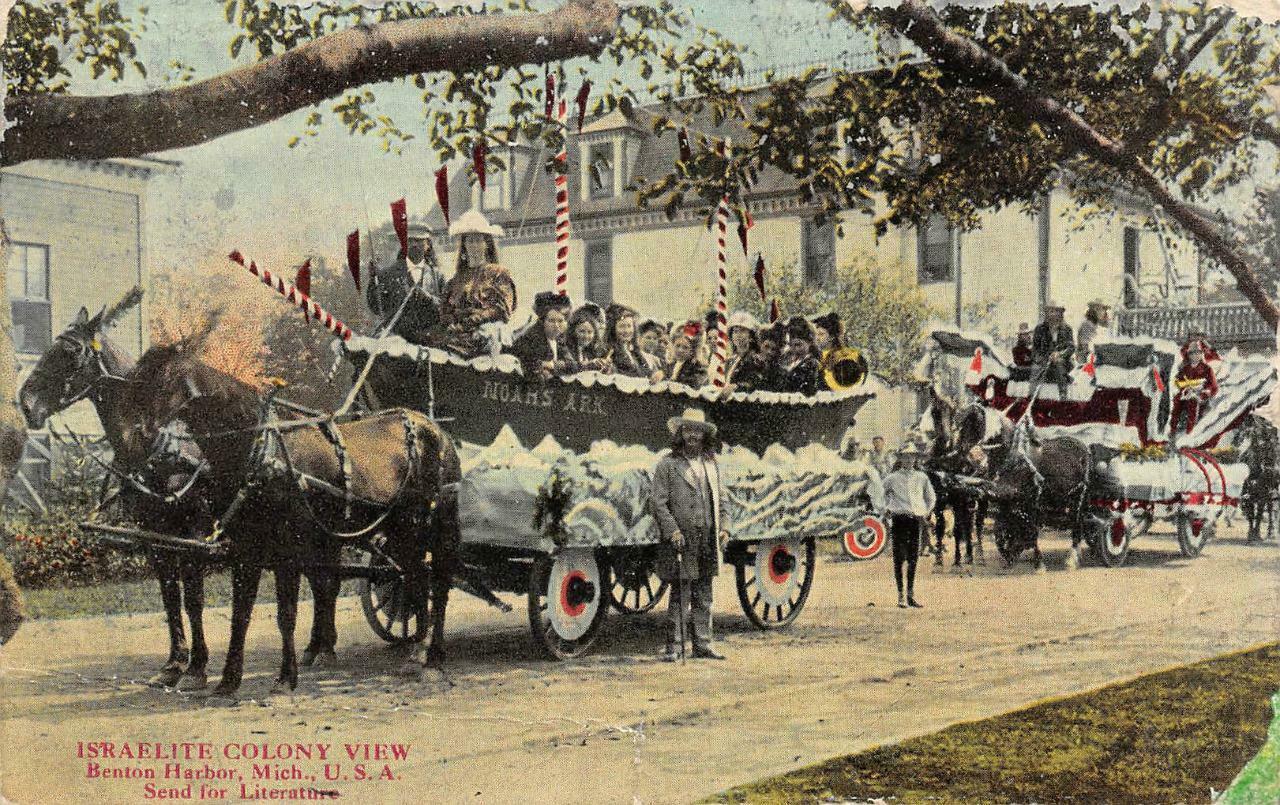 After doing research on the House of David, I came to learn that their baseball team was popular with sports fanatics. A couple of Twitter friends pointed me to an Antiques Roadshow episode where a man learned that his House of David Ball Team postcards go for $100 a pop. When I told Grandma she was the proud owner of $100 postcard, she told me, "Oooh sell it!" Another friend pointed to recreated the House of David jerseys going for $200 on Ebbets Field Flannels.
I hate to break it to Grandma, but unless we have to, I probably won't sell her the House of David Ball Team postcard. That one 5.8 X 4.1-inch piece of paper is worth so much more than $100. For me, it's a key to a fascinating and complex history, one that I'd like to visit in Benton Harbor, Michigan, someday. It also represents my grandmother's past, a simpler time, when watching a bunch of bearded believers play ball brought joy to thousands of adoring fans everywhere.
---
Sources: The Chicago Tribune; Southwest Michigan Business & Tourism Directory; Detroit Free Press; Chicago Reader; Eden Spring Park; Mary's City of David; Israelite House of David; Wikipedia; Herald Palladium; Mashable.