Cape May County Historical Museum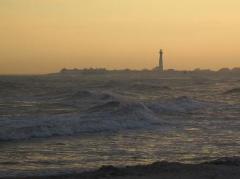 The period rooms include the 18th century kitchen and bedroom with its sampler collection, the pre- 1820 dining room and the Victorian sitting room. Visitors can tour several theme rooms such as the Doctor's Room which contains various surgical instruments and devices, and the Military Room, which displays swords, guns, uniforms and other memorabilia from the Revolutionary through the Gulf War.
The vintage 1800's barn houses an assortment of authentic carriages, including a stage coach, a peddler's wagon and a handsomely restored doctor's sulky.
Maritime history is an important part of Cape May County. The museum is the home of the original Fresnel lens from the 1859 Cape May Point Lighthouse. And there are several other maritime and whaling exhibits.
The Native American Room contains an extensive array of arrowheads, tools and shells of the Lenni-Lenape tribe.