Old School Meetinghouse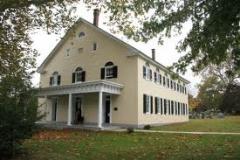 This meetinghouse preserves three hundred years of church history in Southampton, which began with the Society of Friends in the 17th century.
The Southampton Old School Baptist Meetinghouse and Cemetery survive as reminders of the history and heritage of this region. The Meetinghouse has remained virtually unchanged since the 1850's. A stroll through the cemetery reveals a virtual "Who's Who" of local residents of the past three hundred years, including veterans from the French and Indian and Revolutionary Wars. Church records, from 1746 to the present, offer a wealth of genealogical information as well as providing insights into daily life in past centuries.
The Board of Trustees of the Southampton Baptist Corporation is working to restore and maintain the site, making it a resource for our modern community, while preserving its historic, aesthetic and spiritual legacy.