Wright's Chance/Queen Anne's County Historical Society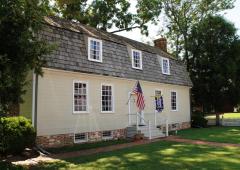 Dating back to the 1700s, Wright's Chance is a Colonial period plantation house. Records show that the house stood before Queen Anne's County established Centreville as its county seat in 1782. It still has its original paneling and glass windows and is one room deep and two rooms wide with a central hallway and large fireplace. The interior wood paneling and fireplace mark Wright's Chance as the home of a gentleman with sufficient means. A gambrel roof provided for living space upstairs.
Historical reports show Robert Smith was the first person to survey the land and patented as "Smith's Forrest" in 1682. Ambrose Wright purchased the land in 1744 and the property stayed in the Wright family until it was acquired by Basil Warfield, who owned the adjacent land. In 1963, Guy Weathersley began a thorough search of the property and published his report in the Centreville Record-Observer in 1966.
The 18th century furnishings include original William Paca chairs, Chippendale and Hepplewhite furniture and Canton china. In May 1964 the Queen Anne's County Historical Society restored and moved the house, now situated at 119 S. Commerce Street, from its original site six miles east of town.