Smith's Fort Plantation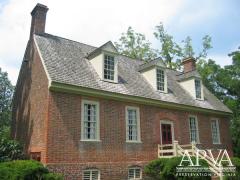 Nestled on the south side of the James River, Smith's Fort Plantation offers a quiet refuge from the bustle of everyday life. Built sometime between 1751 and 1765, the story-and-a-half brick house is laid in Flemish bond and was home to Jacob Faulcon and his family. A gabled roof is accented with dormer windows. Its architectural significance lies in the interior where much of the original woodwork still exists.
However, Smith's Fort had a long and varied history in Virginia. Directly across from Jamestown on Gray's Creek, Smith's Fort offered a strategic location in the early seventeenth century. Later in that century, Chief Powhatan gave his new son-in-law, John Rolfe, a grant of land as a dowry gift on the occasion of his marriage to Pocahontas.