Fort Zachary Taylor Historic State Park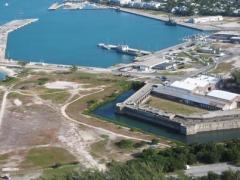 Named after 12th president Zachary Taylor, the U. S. Army began construction on Fort Zachary Taylor in 1845. The U. S. Navy initially maintained a presence in Key West to deter pirates in the Straits of Florida, but Fort Zachary Taylor's strategic value increased during the Civil War, as it served as the headquarters for the Naval East Coast Blockading Squadron. One of three Florida forts to stay in Union control throughout the war, the fort later stayed active until 1947. In 1973, the fort was designated a National Historic Landmark.
In addition to the fort, the state park has beaches, nature trails, and fishing areas open to its visitors. At 12:00pm, park rangers lead historical tours of the fort, and the park hosts reenactments along with events for children throughout the year.