The Powder Magazine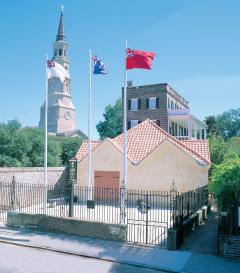 Construction began on The Powder Magazine in 1712 and was completed by 1713, making it the oldest public building in South Carolina. The structure was originally created to house Carolinas' gunpowder in the early colonial period. Holding about five tons of gunpowder, this building was extremely dangerous. However, the gunpowder was needed to supply cannons around the old walled city of Charles Town in an effort to defend the town from the Spanish, French, pirates, slave rebellion and native attacks.
The walls of The Powder Magazine are three feet thick solid brick. The structure was given a thin ceiling with several tons of sand above. In the event of an explosion, the thick walls would force the blast upward. After shattering the ceiling, sand would then dampen the explosion or perhaps even pour down on the fire – acting as a kind of 18th century extinguishing system. A brilliant design; however, because the gunpowder never exploded, this concept of "implosion" was never tested onsite.
This facility was used as an arsenal from 1713 – 1746 and then temporarily reinstated by the Continental Army during the American Revolution. After 1780, The Powder Magazine was retired; however, private owners discovered a variety of other functions for this historic structure. Throughout the 19th century, The Powder Magazine was converted to a stable, print shop, blacksmith shop, wine cellar, and horse carriage house. In 1902, The National Society of The Colonial Dames of America in The State of South Carolina purchased the building, saving it from being destroyed. It was then restored and opened as a museum.
Today, The Powder Magazine stands as a witness to nearly all of South Carolina's modern history. It is one of the oldest attractions in our State and is considered Charleston's first preservation project. By showcasing exhibits relevant to the colonial-era, the museum offers visitors a chance to take a step back three hundred years into Carolinas' past. The facility also hosts a variety of onsite and outreach education programs ranging from early colonial to Revolutionary South Carolina history. The Powder Magazine is available to visitors daily.