Del Webb Sun Cities Museum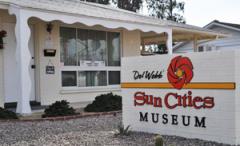 The Sun Cities Area Historical Society/Del Webb Sun Cities Museum is dedicated to the preservation and presentation of records and artifacts through carefully designed exhibits that chronicle the more than 50-year history of Sun City and the 25-year history of its sister city, Sun City West.
Following the publication in 1985 of a book chronicling the history of the first 25 years of Sun City, the writers of the book realized they had accumulated an abundance of records that should be preserved. The group decided to organize a society that would catalog the materials and serve as a resource for further study.
In 1986, the Sun Cities Area Historical Society was incorporated as a non-profit charitable organization for civic and educational purposes. The Society is governed by a volunteer Board of Trustees. In 1989 the Society was able to purchase the first model home built by Del Webb, opened to the public on January 1, 1960. The home was subsequently renovated to serve as the Society's headquarters.
In 2009, to coincide with the impending 50th anniversary of Sun City, the Society decided that it was time to focus on sharing its extensive collections and artifacts with a larger community. It renamed its headquarters the Del Webb Sun Cities Museum, and had a grand opening of the new museum on January 1, 2010.
For a peek into the past, and for a greater appreciation of Del Webb's innovative concept of active retirement communities, scroll through the "pages" of this Web site, and come visit us at our unique facility. You will receive a warm welcome from one of our friendly and informative docents.