Travellers Rest Plantation And Museum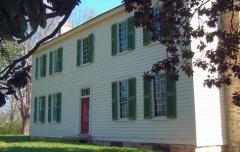 For over fifty years, Travellers Rest has been an integral part in the Nashville and middle Tennessee museum community. Saved from demolition in 1954 by the Tennessee Society of the National Society of the Colonial Dames of America, the historic house, built originally in 1799, was restored to interpret the early 19thcentury life of Judge John Overton, one of the state's first Supreme Court Justices, the founder of Memphis, and a close personal friend of Andrew Jackson.
Over the past half-century, the site's interpretive and educational mission has evolved and expanded to include almost 1000 years of cultural development of the mid-Cumberland Basin, from the area's prehistoric origins as a Native American settlement, to Nashville as an outpost on America's first frontier, to the Civil War and the city's emergence as a leading capitol of the New South. Today, Travellers Rest, a National Register property, is recognized as a model of preservation excellence. Since the mid-19th century Americans have learned about the nation's past by visiting historic house museums. "Old houses," like Travellers Rest, are a staple of many family vacations, school field trips, and special events.