Tryon Palace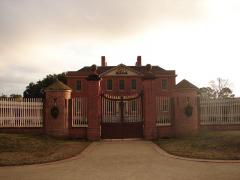 Tryon Palace is a modern recreation of the original palace, which served as the royal governors' palace of the Province of North Carolina. William Tryon commissioned the palace as he ascended to the royal governorship in 1765. He only lived in the palace for one year, leaving North Carolina in 1771 to become royal governor of New York.
In 1775, Josiah Martin, the last royal governor of North Carolina, fled the palace, and American patriots seized the building and used it as the first state capitol building. Although the first state governors of North Carolina lived in the palace, it succumbed to fire in 1798, and the remains were razed some years later.
Beginning in 1945, the newly established Tryon Palace Commission decided to rebuild the palace, using the original plans. In 1959, the reconstructed palace opened to the public. More recently, the Tryon Palace complex opened the North Carolina Historical Center, a 60,000 square-foot interactive facility that allows children and young adults to perform typical duties for Antebellum North Carolinians.