Navy – Merchant Marine Memorial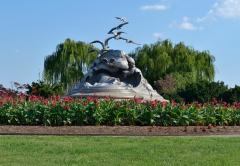 Located in Lady Bird Johnson Park on Columbia Island, the Navy-Merchant Marine Memorial honors the American sailors and marines killed at sea during World War I. Situated across the Potomac River from West Potomac Park and the National Mall, the memorial was designed by Harvey Wiley Corbett and completed in 1934.
To honor the sacrifices made during naval warfare, the memorial consists of seven gulls above a cresting wave. It stands 35 feet tall and 30 feet wide, with an aluminum cast atop a green granite base. The base was changed from concrete to granite during a Works Progress Administration project in 1940.