Crown Point State Historic Site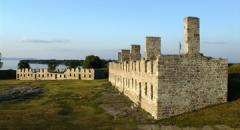 During the French and Indian War, Ft. Fredric served as a critical French Bastion guarding against British invasions to the north.
Destroyed by the retreating French in 1759, the British occupied the peninsula and eventually built a new and much larger fort adjacent to the old one.
In 1775, at the outbreak of the Revolutionary War, the rebellious colonists captured the fort and secured sorely needed cannons and heavy ordnance. Crown Point was occupied by General John Burgoyne's army in 1777 after the American evacuation to Mount Independence and remained under British control until the end of the war. The ruins of Fort St. Frederic, "His Majesty's Fort of Crown Point," and surrounding lands were acquired by the State of New York in 1910.
Visitors can see the ruins of the original 18th-century structures and in the Visitor Center, view exhibits that interpret the French, British, and American chapters of Crown Point's history. Located across the road is the Lake Champlain Visitor Center, featuring exhibits on the fort's history and military artifacts from archaeological excavations