Center For Civil & Human Rights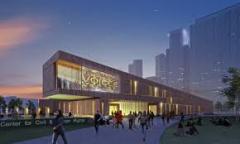 The Center, now in the planning stages of development, will promote the ongoing Civil Rights Movement in Atlanta.
The Center for Civil and Human Rights Partnership will be located in the heart of downtown Atlanta and will serve the city by providing a place to learn, discuss, and engage in civil and human rights issues. It intends to provide education in the history of the Civil Rights Movement in Atlanta and in the current, global struggle for human rights. The Center has determined a location at Pemberton Place, next to the World of Coca Cola, and intends to open its doors in 2013.