Christiansted National Historic Site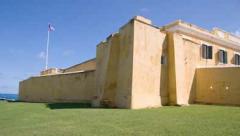 Christiansted National Historic Site, on the island of St Croix in the Virgin Islands, was established in 1952 through the initiative of concerned local citizens. The park's mandate is twofold - to preserve the historic structure and grounds within its boundaries, and to interpret the Danish economy and way of life here between 1733 and 1917. From 1734 until 1803, Christiansted was an important port on the infamous Triangular Trade, which took trinkets and rum from Europe to Africa, slaves to the Caribbean, and sugar and molasses to New England or Europe.
The park consists of seven acres centered on the Christiansted waterfront/wharf area. On the grounds are five historic structures: Fort Christiansvaern (1738), the Danish West India & Guinea Company Warehouse (1749), the Steeple Building (1753), Danish Custom House (1844), and the Scale House (1856). The National Park Service uses these resources to interpret the drama and diversity of the human experience at Christiansted during Danish sovereignty – colonial administration, the military and naval establishment, international trade (including the slave trade), religious diversity, architecture, trades, and crime and punishment.