City Of Foley Train Museum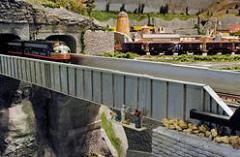 Located in the old L & N Railroad Depot is Foley's Museum Archives. The first depot was built in 1905 when Mr. John B. Foley of Chicago used some of his own money to bring the railroad to the southern part of Baldwin County. This first depot burned to the ground, and a second station took its place in 1908. The railroad line was a spur from Bay Minette and ended approximately a mile south of Foley. At that end, there was a wye when the train could turn around.
The depot and the railroad became the center of activity for the growing town of Foley. At this time, the area was primarily agricultural so the railroad was vital to getting the produce to market. During "shipping" season, thousands of boxcars would pull out of Foley loaded with potatoes, corn, gladiolas, and many other types of produce that was grown in the area.
In 1971, the L & N Railroad discontinued their services to Foley. It was the intention of the company to tear down the depot. However, John Snook, owner of Gulf Telephone Company, bought the building for one dollar. He then moved the whole building to Magnolia Springs, a small community five miles West of Foley. For 24 years, Mr. Snook used the building as a warehouse for the phone company before deeding it to the City of Foley. In 1995, the depot was returned to Foley and placed back in its original location. The City has since turned the depot into a museum. Here, you will find pictures and artifacts that depict the culture of South Baldwin County, especially the City of Foley.