East Ely Railroad Depot Museum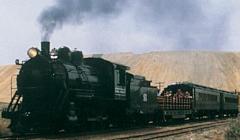 In the 1990 the Depot Building and the Freight Barn were given to the State of Nevada for the establishment of a museum in eastern Nevada. As the newest of six state museums, the East Ely Railroad Depot Museum shares the mission of other institutions. Staff are dedicated to the collection, preservation, study, and interpretation of the vast and rich heritage of the State of Nevada.
The East Ely Railroad Depot Museum focuses on the historical industrial development of Nevada as evidenced by the massive copper production in the area which began in 1900. Located in the historic Nevada Northern Railroad Depot building, the museum interprets mining and transportation heritage.