Equinunk Historical Society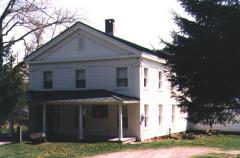 H.N. Farley bought the Calder lands and buildings from the estate of Joseph Calder in 1879. The next sale was to the Lords in 1915. They sold it to Martin Perrone in 1949, when it was converted into a barbershop and beauty parlor. In 1969 Scott and Donna Eldred bought the house, to be followed by Christine and Ross Hessberger in 1971. The Equinunk Historical Society bought the house in 1983.
The original part of the house exhibits the Greek Classic Revival style of architecture, although the old clapboard siding is hidden under asbestos shingles put on by Martin Perrone. (They were removed and the wood siding was newly painted in July 2003.) There is much more information on the house contained in books and papers available at the Museum. Plan a trip to see the museum soon and watch the papers for programs during the summer and fall.