Fairview Museum Of History And Art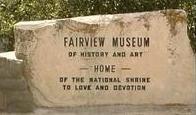 The mammoth was unearthed on the nearby Wasatch Plateau in 1988 while excavating the Huntington Reservoir. The quality of the find, plus the altitude at which it was found, make this mammoth unique. The skeletal remains of this animal were preserved in a peat bog where he died some 10,000 years ago. The bones were not fossilized and were so well preserved that scientific testing has accurately fixed the date of the animal's demise.Perhaps of greatest interest to the public at large was the discovery of projectile points with the bones indicating possible interaction between humans and the animal.
The work of one of Utah's most famous artists, Avard T. Fairbanks, is also on display at the Fairview Museum.