Hill Aerospace Museum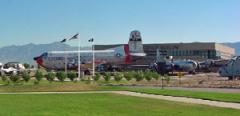 Hill Aerospace Museum is located on approximately 30 acres on the northwest corner of Hill Air Force Base, Utah, about five miles south of Ogden. The museum was founded in 1982 as a part of the United States Air Force Heritage Program and first opened to the public in 1987. It moved to its current facility in 1991 and hosted its 1 millionth visitor in the spring of 1996. About 180,000 visitors from every state and from many foreign countries come to the museum annually.
Currently the Museum exhibits over 80 military aircraft, missiles, and aerospace vehicles on the grounds and inside the Major General Rex A. Hadley Gallery and the Lindquist Stewart Fighter Gallery. The museum collection also includes a wide variety of ordnance, an assortment of aerospace ground equipment, military vehicles, uniforms, and thousands of other historical artifacts.