Lost City Museum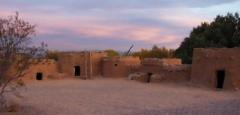 In the early 1930s, Anasazi Indian sites were being threatened by the waters of Lake Mead as it backed up behind the newly built Hoover Dam. Eventually, when the lake was filled to capacity, about five miles of sites had been inundated or undercut by the water.
The Civilian Conservation Corps assisted in the excavation of the sites and the construction of the museum building. The building was constructed of sun-dried adobe brick in a pueblo- revival style. The museum also served as the park headquarters for the Boulder Dam State Park that was established at Lake Mead.
The museum is currently owned and maintained by the State of Nevada as one of its six state museums. Program include ongoing archaeological research on the remaining Lost City sites, school tours and outreach programs, changing exhibits and archival library and collections research capabilities. Special public programs are held throughout the year.