Macon County Historical Museum And Prairie Village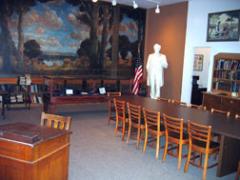 Abraham Lincoln and his family made Macon County their first home in Illinois after arriving from Indiana 1830, with Lincoln giving his first political speech in Decatur, as well as practicing law in Macon County's first two courthouses. The story of Lincoln's life in Decatur and Macon County is chronicled in several informative exhibits, with visitors being able to tour the Lincoln Log Courthouse located in the Museum's Prairie Village Complex where Lincoln participated in numerous legal cases that was used in Macon County in the late 1830's.
The Macon County Historical Society had its birth on May 25, 1916, when twelve people met in the Decatur Public Library, adopted a constitution, and elected temporary officers.