National Heisey Glass Museum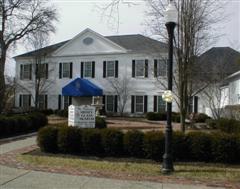 The museum has been owned and operated by the Heisey Collectors of America, Inc. (HCA) since 1974. Visitors are treated to breathtaking arrangements of Heisey glassware featuring hundreds of patterns and all known colors. Elegant cuttings, etchings and engravings, as well as experimental pieces, can also be seen. The collection is largely donated by or on loan from HCA members.
In addition to seeing beautiful Heisey glassware, guests can learn about factory production practices through the display of molds, tools, etching plates, factory designs, samples and even "whimsies."
The museum consists of the historic Samuel D. King residence, an 1831 Greek Revival style home which was saved from demolition and moved to Veterans Park in July of 1973, and a new wing added in 1993 which features two large galleries, a media center and an archives facility. The museum also contains a library facility open to HCA members and a Museum Shop stocked with reproductions made from Heisey molds, collectors' books, and even some original Heisey.