North Hill Preservation District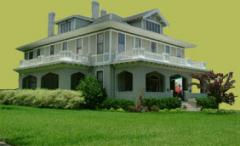 North Hill is one of the largest residential historic districts in the State of Florida and is listed on the National Register of Historic Places. It contains more than 400 historic homes built between 1870 and the 1930's. A stroll through the tree lined streets reveals a literal outdoor museum of architectural treasures from Queen Anne, Neoclassical, Tudor Revival, Craftsman Bungalow, and Mediterranean Revival to Art Moderne. It is protected by zoning regulations and governed by the City of Pensacola Architectural Review Board to ensure the preservation of its distinctive architectural character and compatibility of future development.
It was here in 1781 that the Spanish army under General Bernandro de Galvez defeated the English at Fort George, helping to turn the tide of American Revolution. The battle site, at the crest of a hill rising from the waterfront settlement, is now distinguished as the Fort George Memorial Park. A section of the Fort reconstructed on its original foundation marks the historic spot which lies within the present boundaries of the North Hill Preservation District.