River Road African American Museum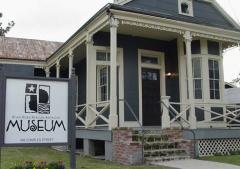 In 1992, in a bold and courageous move, driven by a passion to fulfill her vision, Kathe Hambrick approached the owners of the Tezcuco Plantation and with great conviction asked the owners if they would let her use a vacant room at Tezcuco to start a museum. The museum was later moved to Donaldsonville.
With over 300 years of history, the legacy and importance of Africans in America to the growth of the South, the United States and the world is evident through the collection and exhibits of rare artifacts found at the museum. Most of the items in the museum's collection have been donated or loaned by families from the surrounding parishes including St. James, Iberville, Assumption, St. Charles, St. John the Baptist, East and West Baton Rouge.
The museum tour takes visitors through the archives which contain historical documents, books, rare photographs, and videos. The collection includes artifacts, newspaper ads for runaway slaves; obituaries; certificates of midwives and rural black doctors; photos and sketches of inventors such as Leonard Julien and Madame C. J. Walker in addition to politicians, soldiers, artisans, and entrepreneurs.