Rufus Porter Museum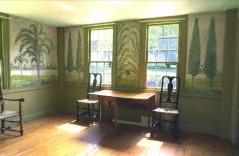 Rufus Porter, an artist and inventor who lived from 1792 - 1884 and spent his boyhood years in the Bridgton, Maine area, helped to create an American culture. In his early years Porter painted small watercolor portraits from Maine to Virginia, then later moved on to landscape painting on walls of private homes throughout New England. His use of local landscapes with a vivid palette and broad, open brushstrokes was a departure from the styles and content of classical European wallpaper. Because most of his murals were unsigned, it was not until the mid 1930s that his body of work was authenticated through the publications of Jean Lipman.
The Rufus Porter Museum and Cultural Heritage Center celebrates the contributions of Rufus Porter to American arts and industry. The Center preserves a home on 67 North High Street in Bridgton, Maine, containing Porter murals painted in 1828. The Center proposes adding a structure to house the 15 Westwood, Mass murals, and to become an exhibition and teaching facility devoted to the creative arts and sciences of the 19th and 20th centuries.
The Rufus Porter Museum, the only entity devoted to his work, displays his vivid murals in the front parlor. Annually changing exhibits of work by other Maine folk artists such as Joseph H. Davis, John Brewster, Jr., George Hartwell and William Prior have enabled visitors to compare art of the period by his contemporaries. An extensive collection of early issues of Scientific American magazine is also on display.
Rufus Porter was, among many other things, a teacher of the arts. We want to continue this tradition by offering classes, lectures, and workshops such as wood carving, restoration arts, folk painting, traditional furniture making, candle making, tole painting, fiber arts, etc. to help keep these arts alive.