Van Cortlandt House Museum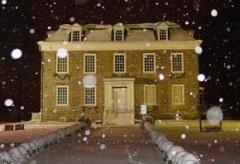 Merchant Jacobus Van Cortlandt began purchasing land in the Bronx in 1694. Gradually, he developed the property into a wheat plantation with extensive milling operations. Jacobus' son Frederick inherited the estate and commissioned the present house in 1748. The House was built in the Georgian style out of native fieldstone, and its elegant interior speaks to the family's wealth and refinement.
During the Revolutionary War, the House's location between Broadway and the Albany Post Road gave it a strategic position in the conflict. The House and plantation were occupied by Colonial and British armies in turn. General George Washington is known to have stayed in the House at least twice, as did British General Sir William Howe.
Van Cortlandt descendants lived in the House until 1886, when they sold the entire estate to the City of New York for Van Cortlandt Park. In 1896, The National Society of Colonial Dames in the State of New York restored the House as a museum of 18th-century life. As New York City's first historic house museum, Van Cortlandt House contains an outstanding collection of furniture and decorative arts, including many heirlooms donated back to the house by members of the Van Cortlandt family.
Van Cortlandt House Museum is a National Historic Landmark and both its interior and exterior have been designated New York City Landmarks.
Van Cortlandt House Museum is owned by the New York City Department of Parks & Recreation, operated by The National Society of Colonial Dames in the State of New York, and is a member of the Historic House Trust.