Waterhouse Residence Museum & The Carpentry Shop Museum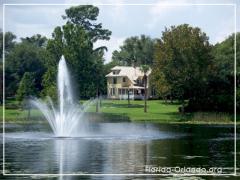 The Waterhouse Residence Museum evokes the glamour and spectacle of Orange County in the 1880s, a time when the Gilded Age had all of Florida in thrall.
The Carpentry Shop Museum features the historic 19th-century tools with which William Waterhouse originally constructed his residence.
Travel back to the era of Calling Cards, Corsets, and Courting Sofas with a visit to Maitland Historical Society's beautifully constructed Victorian era home. Your tour of the Historic Waterhouse Residence Museum is guided by a trained docent and will allow your class or group to see what life was like in the 1880s. Your visit is enhanced with a trip to William Waterhouse's Carpentry Shop where he kept the tools that built the Waterhouse Residence and other Maitland buildings. You'll get to see how the tools worked and find out about Mr. Waterhouse's chosen occupation.