William Trent House Museum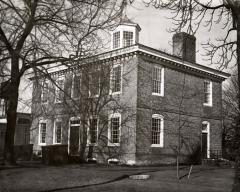 William Trent built his country estate north of Philadelphia, in New Jersey, at the Falls of the Delaware River about 1719. It was a large, imposing brick structure, built in the newest fashion. An "allee" of English cherry trees led from the entrance down to the ferry landing. Nearby, there were numerous outbuildings as well as grist, saw and fulling mills along the Assunpink Creek. In 1720 Trent laid out a settlement, which he incorporated and named "Trenton."
Through careful preservation and accurate historical interpretation, visitors will become aware of the importance of this building in national, state and municipal history. An ambitious restoration project is nearly complete and will provide a more accurate historical representation of the museum's original appearance.