Wolf Creek Indian Village And Museum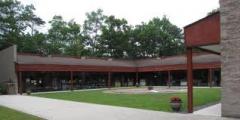 This authentically recreated Cherokee village was built on the site of a prehistoric Indian village dating back to the 1200s.
The site was carefully excavated, mapped, and documented and has since been recreated so visitors can experience the actual layout of the wigwams and palisade. Interpretive guides lead visitors in a hands-on exploration of the early living skills and even skills that are still used today. Museum displays include artifacts from the original site and other pieces and replicas from Southwest Virginia and areas all over North America.