Wrightsville Beach Museum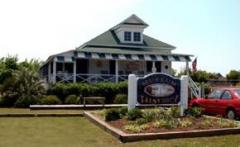 The town of Wrightsville Beach occupies one of the chain of barrier islands along North Carolina's southeastern coast. These islands, geologically relatively young, presented prior to urban development a combination of wide sandy beaches, dunes, and marine forests.
The Museum is designed to reflect how life was lived in a typical home on the Beach, and throughout the community. One room of the Wrightsville Beach Museum of History is dedicated to the display of various exhibits pertaining to the area's history. Currently on display are exhibits on the history of the barrier islands, Wrightsville Beach and the Civil War, Hurricane Hazel, and Lumina Pavilion.