Nearly 1,800 newspapers have died since 2004, creating "news deserts" across the country. At many remaining journals, cuts have been so deep that they've become "ghost papers." What are the implications for democracy?
The author and her team of researchers at the University of North Carolina have compiled a database of 9,000 newspapers across the U.S. and published important new research on the loss of local journalism and the growth of what they call "news deserts." 
We asked Prof. Abernathy, a former reporter for The Wall Street Journal and New York Times, to provide us with a summary of her findings on these historic trends.  —The Editors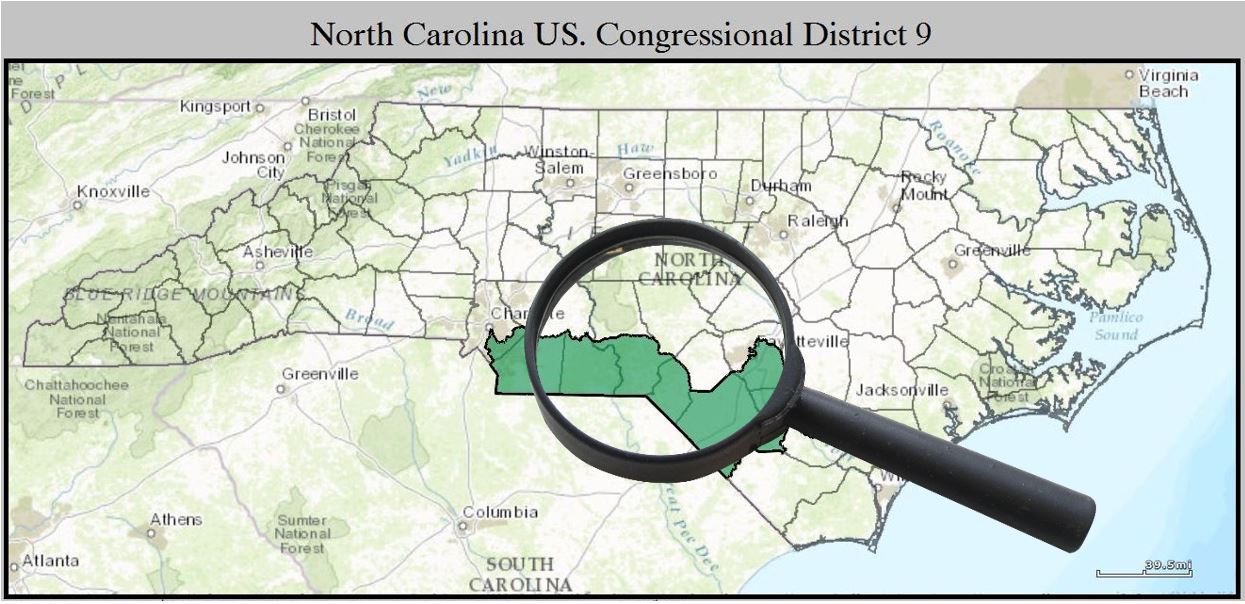 North Carolina election officials recently heard testimony that Mark Harris, the candidate who had apparently won a seat in the U.S. Congress, benefited from a "coordinated, unlawful, and substantially resourced" effort to stuff ballots in Bladen County.
The scandal received widespread coverage in the press, but what went largely unnoticed was the fact that the election fraud had been discovered by Mark Bitzer, a professor of political science in another part of the state, who was curious about anomalies in the election returns — not by local journalists performing their role as political watchdogs. In fact, there was no longer a single reporter assigned to cover elections in Bladen County, where the fraud occurred, despite there having been five investigations of electoral irregularities there since 2010.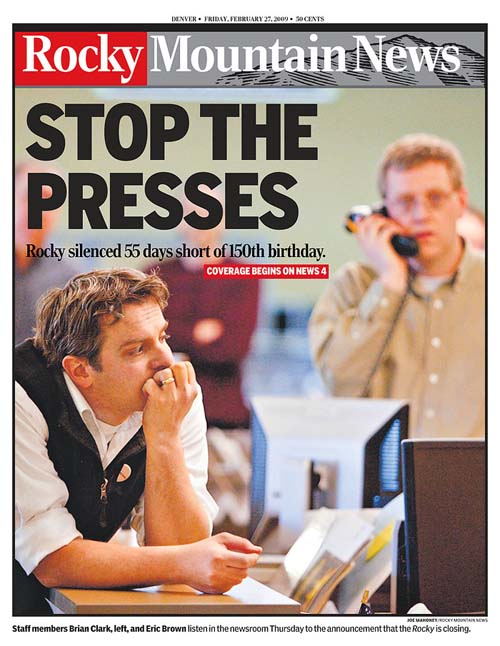 As with Bladen County, there has been a widespread reduction of journalistic resources across the U.S. Our research team at the University of North Carolina has been studying the loss of newspapers since 2004 and built a database of more than 9,000 newspapers to drill down to the county level to understand how the news landscape in each of our 50 states has changed, and the implications this has for their communities. By documenting the shifting news landscape and evaluating the threat of media deserts, our reports seek to raise awareness of the role each of these interested parties can play in addressing the challenges confronting local news and democracy.
From our very beginnings as a nation, newspapers have played a vital role in building community. Strong newspapers fostered a sense of geographic identity and in the process nurtured social cohesion and grassroots political activism. The stories and editorials they published helped set the agenda for debate of important issues, influence the policy and political decisions we made, and build trust in our institutions. The advertisements they carried drove local commerce and regional economic growth by putting potential customers together with local businesses.
In the past decade and a half, nearly one in five newspapers has disappeared
Ron Heifetz, professor at Harvard University's John F. Kennedy School of Government, describes a newspaper as "an anchor" because it "reminds a community every day of its collective identity, the stake we have in one another and the lessons of our history. "
For residents in thousands of communities across the country – inner-city neighborhoods, affluent suburbs and rural towns– local newspapers have been the prime, if not sole, source of credible and comprehensive news and information that can affect the quality of their everyday lives. Yet, in the past decade and a half, nearly one in five newspapers has disappeared, and countless others have become shells – or "ghosts" – of themselves.
The stakes are high, not just for the communities that have lost newspapers — or are living with the threat of losing a local newspaper – but also for the entire country. Our sense of community and our trust in democracy at all levels suffer when journalism is lost or diminished. In an age of fake news and divisive politics, the fate of communities across the country – and of grassroots democracy itself – is linked to the vitality of local journalism.
In our connected age, there is an abundance of news and opinion, coming at us 24/7. The latest terror attack, the presidential debates or the shenanigans of celebrities. It's all covered in minute detail. But missing from that motley collection of trivia and substance is news of what is happening in our own backyards.
Local news about a tax increase or a zoning decision is rarely of such interest that it trends, but it has an outsized impact on the everyday lives of residents in small towns, city neighborhoods and suburbia. When local newspapers fail, these communities are often left without any news organization to care about, watch over and report on the actions of the county commission or the local school board.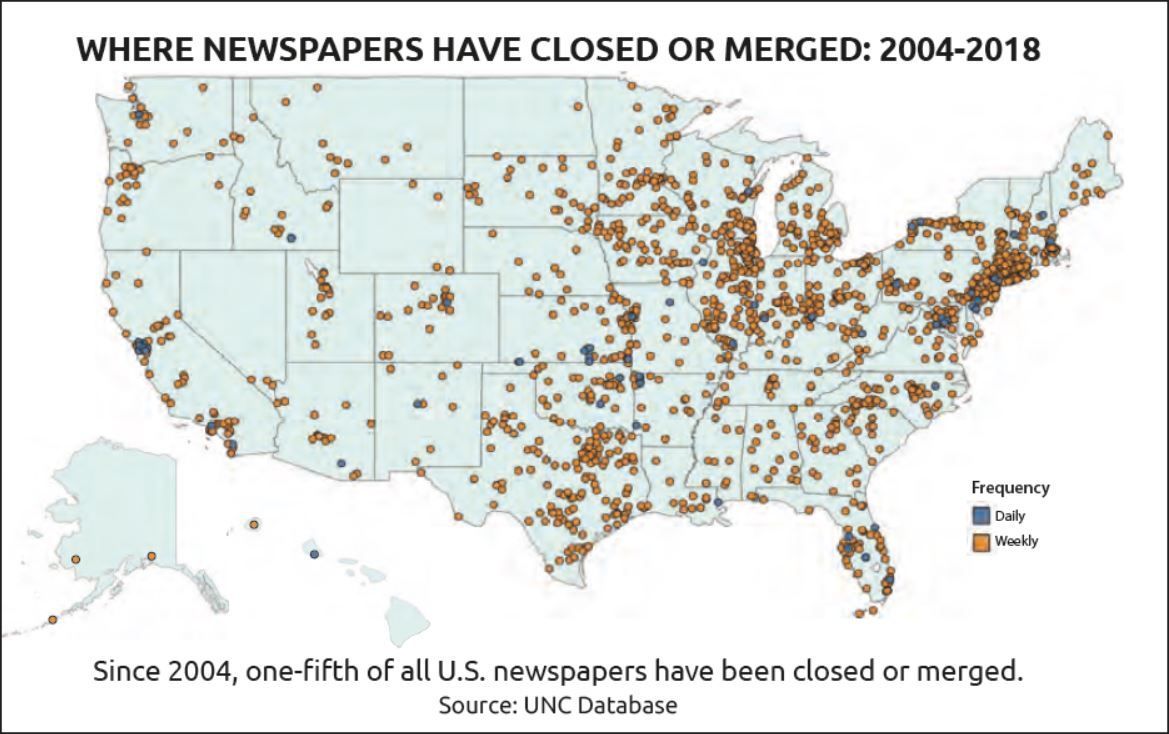 Our researchers have found an unrelenting loss of newspapers and readers since 2004 with troubling implications for thousands of communities. More than 60 daily newspapers and 1,700 weeklies have folded. Roughly half of the remaining 7,112 in the country – 1,283 dailies and 5,829 weeklies – are located in small and rural communities. The vast majority – around 5,500 – have a circulation of less than 15,000.
Print readers are disappearing at an even faster rate than print newspapers, and the pace appears to be accelerating. Over the past 15 years, total weekday circulation - which includes both dailies and weeklies – declined from 122 million to 73 million. While more and more readers prefer to receive news online, this dramatic loss has been driven not only by changes in reader preference, but also by the business decisions of newspaper owners. The decrease in daily circulation comes primarily from the pullback of metro and regional newspapers from distribution to outlying rural and suburban areas. In contrast, much of the loss in weekly circulation since 2004 comes from the closure of more than 1,700 weeklies. This decrease in print readers raises serious questions about the long-term financial sustainability of both small community and large metro newspapers.
No state has been spared the death of a newspaper. California lost the most dailies of any state. Some of the most populated states – New York, Illinois and Texas — lost the most weeklies. The loss of newspapers in one state has the potential to affect residents in many other states, since government agencies often rely on local news reports to help identify and contain public health crises and assess the impact of environmental disasters.
"News Deserts" and Shrinking Coverage
There are hundreds -- if not thousands – of communities at risk of becoming isolated news deserts. There are almost 200 of the 3,143 counties in the United States without any paper. An additional 1,449 counties, ranging in size from several hundred residents to more than a million, have only one newspaper, usually a weekly.
More than 2,000 have no daily paper. The residents of America's emerging news deserts are often its most
vulnerable citizens. They are generally poorer, older and less educated than the average American.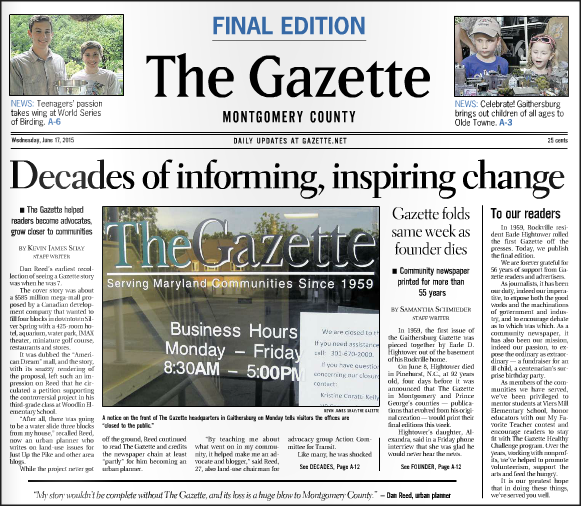 Seventy percent – 1,300 – of the newspapers that closed or merged were in metro areas. All but 50 were weeklies, most with a circulation under 10,000. Their demise leaves a news vacuum for many of America's suburbs and urban neighborhoods, where residents have historically relied on community weeklies to keep them informed about the most pressing hyperlocal issues.
More than 500 newspapers have been closed or merged in rural communities since 2004. Most of these counties where newspapers closed have poverty rates significantly above the national average. Because of the isolated nature of these communities, there is little to fill the void when the paper closes.
The dramatic pullback in circulation and coverage of state and regional papers has dealt a double blow to residents of outlying rural counties, as well as close-in suburban areas. Many of these communities have also lost their weekly hometown paper and are left without any credible and comprehensive sources of either local or regional political and economic news.
Chain owners frequently squeeze the life out of newspapers
Less than a decade ago, in the wake of the worst recession since World War II, a group of private equity and hedge fund investors swooped in to purchase hundreds of financially struggling newspapers, many in bankruptcy. The managers of these funds promised shareholders they had the golden touch and would be able to quickly turn around the fortunes of mature enterprises through a combination of cost cutting and innovative business practices. But the turnaround has proved to be harder than expected, and 2018 may well be a pivotal year for the newspaper industry as these newly minted media barons decide whether to head for the exit or increase their stake.
Five of the ten largest U.S. newspaper chains are now owned by hedge funds or private equity firms interested more in return on investment than good journalism.
At the beginning of the year, five of the 10 largest newspaper chains were owned by hedge funds, private equity firms and other types of investment groups, which have vast portfolios of unrelated holdings such as real estate, financial services, international debt and health care companies. By the end of 2018, there may be only two of these companies still actively investing in newspapers: New Media/GateHouse, the largest newspaper company in the country with 451 papers, and Digital First, the third largest with 158 papers.
Faced with disappointing returns, the other three large investment-owned chains – Community Newspaper Holdings Inc. (CNHI), tronc/Tribune Publishing and BH Media, which together own almost 300 papers – are either exploring sales of their newspapers or opting out of day-to-day management.
Yet, despite their shrinking number and their relatively short tenure as media moguls, the large investment firms have left an indelible mark on the country's news landscape, which has experienced unprecedented structural change and technological disruption over the past decade.
The investment firms introduced a new way of thinking about the business management of newspapers and their journalistic mission, which often ran counter to the historic practices of traditional print newspaper companies. The standard operating formula often included aggressive cost-cutting, the adoption of advertiser-friendly policies, the sale or shuttering of under-performing newspapers, and financial restructuring, including bankruptcy. At the most extreme, their strategies have led to the closure of hundreds of local papers and diminished the important civic role of newspapers in providing reliable news and information that helps residents of a community make important decisions about governance and quality of life issues.
As the traditional business model for print newspapers has collapsed, many of the business practices introduced by the investment firms have been incorporated into the strategies pursued by legacy newspaper companies, both the large publicly traded chains, as well as the private ones.
This raises a number of questions about the future of local newspapers, which have historically been the prime source of news and information in communities throughout the country. What will become of the thousands of newspapers now being sold to the highest bidder? What about the future of the hundreds of papers that remain under the management of hedge funds and private equity companies? Is this retreat by the large investment groups an admission of defeat that will prompt new strategies?
The stakes are high, not just for the communities that have lost newspapers — or are living with the threat of losing a local newspaper – but also for the entire country. Our sense of community and our trust in democracy at all levels suffer when journalism is lost or diminished. In an age of fake news and divisive politics, the fate of communities across the country – and of grassroots democracy itself – is linked to the vitality of local journalism.