John Muir fought for decades to create Yosemite National Park, and helped launch the American environmental movement.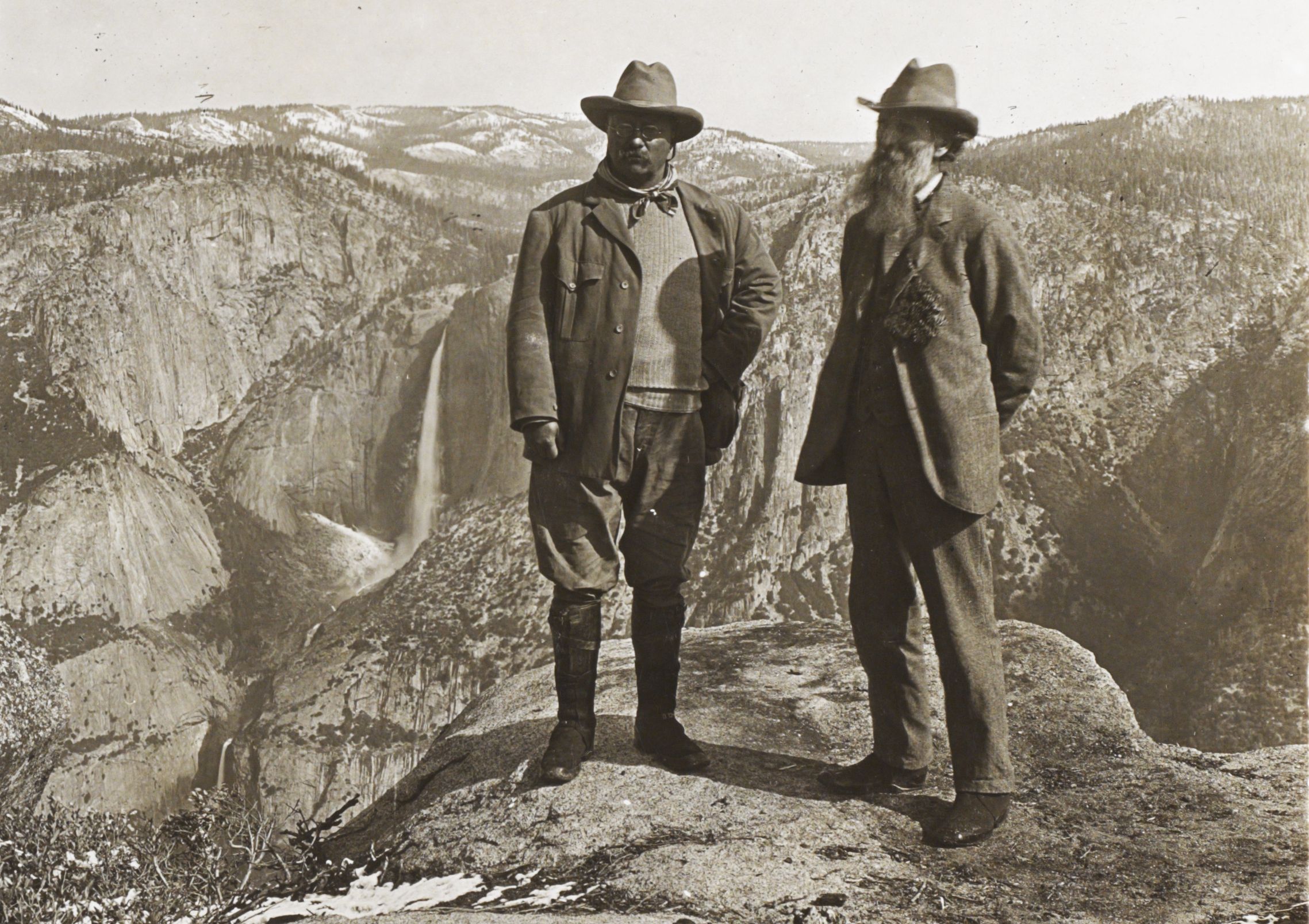 Editor's Note: Dean King is the author of twelve books most recently Guardians of the Valley, from which he adapted this essay.
TEXT NOT FINAL
Whether the anonymous photographer felt the conceivably immense pressure we will never know. But with the head of the nation and the soul of the nation's preservation movement, both rugged, demanding, and outspoken men, paired together for a brief time, posed against arguably the nation's most transcendent and iconic landscape, after a long journey by train, horseback, and boot from any major city, the stakes in making a good image were high.
The photo — the official portrait of John Muir, age sixty-five, and Theodore Roosevelt, age forty-four, at Overhanging Rock — would come to symbolize the young president's love of nature and serve as a memorial to the meeting of the two indomitable men who had camped there together the night before. Yet all might not have been as copacetic as it appeared, or as Roosevelt, who was laying the groundwork for election to a second term, would later lead us to believe. 
Were these two pillars of American conservation, these two headstrong men, truly in accord that day?  Or had they, representing two very different and irreconcilable visions, clashed? Did they themselves even know?
The Roosevelt-Muir photo op took place five decades after the California Gold Rush, when the first white men to enter the magnificent valley, the Mariposa Battalion — a volunteer army of prospectors, ranchers, and roughnecks — led by the trader James Savage, who had quarreled with the Miwuk, went there in the spring of 1851 to rout the tribe from its stronghold, a remote valley and bear den they called Yosemite. 
Reaching what became known as Inspiration Point, at least one of them, the gold miner L. H. Bunnell, realized the specialness of the place. "Haze hung over the valley — light as gossamer — and clouds partially dimmed the higher cliffs and mountains," he later wrote. "This obscurity of vision but increased the awe with which I beheld it, and as I looked, a peculiar exalted sensation seemed to fill my whole being, and I found my eyes in tears with emotion."
Four decades had passed since President Abraham Lincoln had signed a bill granting Yosemite (Miwuk for "those who kill") Valley and the Mariposa Grove of Big Trees to the State of California to preserve and protect "for public use, recreation and enjoyment, inalienable for all time." Lincoln's Yosemite grant — preceding the creation of Yellowstone National Park by eight years — was the first to establish government protection of any land.