Alaskaland Pioneer Air Museum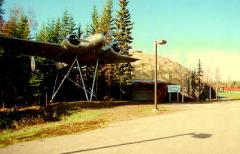 Alaska's pioneer history coincided with advances and experiments in flight, and this Fairbanks museum chronicles the progression of both.
Alaska's air history is rich and exciting. The Great Land's frontiers were being explored just as the early pilots and explorers were testing the frontiers of flight. It was an inspiring time.



Housed in the beautiful gold dome, designed by Buckminster Fuller, the museum's rare and unique collection of over 500 photographs chronicle early flight and the brave men and women who ventured into the unknown.



Displayed are memorabilia, and the personal records of pilots famous for daring adventures. Also shown are 14 actual aircraft and one of the largest piston engine displays ever assembled.