Albany Civil Rights Institute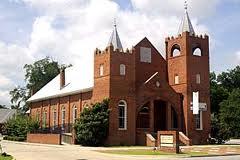 The Albany Civil Rights Institute preserves the history of the Civil Rights movement in southwest Georgia.
The Albany Civil Rights Institute documents the lesser-known, early Civil Rights-era Albany Movement. Before major historic events occurred in Birmingham and Selma, Alabama, the Student Non-violent Coordinating Committee, the NAACP, and the Southern Leadership Conference, as well as future civil rights heroes, Dr. Martin Luther King, Jr. and Ralph Abernathy, mobilized in the southwest Georgia town of Albany to oppose discrimination and to gain national attention for the movement. While the movement did not produce the intended results, this museum emphasizes the town's significance as a starting point in the movement for civil rights. The Institute preserves the memory of this movement and of the greater American Civil Rights Movement for the southern Georgia region.