Albuquerque Museum Of Art And History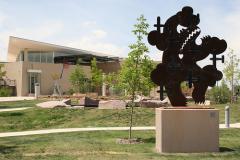 An exhibition of local history depicts four hundred years of the history of Albuquerque and the Rio Grande Valley region. Look over early maps, arms and armor and weaving. Learn about trade routes, colonial life and statehood-era relics.
Twelve miles north stands Casa San Ysidroa, a restored early 19th-century adobe house, built by the merchant-farmer Gutiérrez family in 1875 and containing one of the most extensive collections of 17th-century Spanish Colonial furnishings, fine art, and agricultural artifacts in the state.