Allaire Village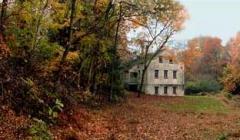 Discover the Historic Village at Allaire and all it has to offer. From Special Event Programming to Interpretive Demonstrations, visitors to the Historic Village will gain a better understanding of life in an early 19th Century Industrial Iron Producing Community. Visit the Trades Shops where the master craftsmen and their apprentices practice their arts, stroll along the tree lined streets and stop in at the Manager's House where Mrs. Smith and her daughters demonstrate the domestic skills of the time or pay a call on the Allaire Home and see how an affluent family of the period lived. Your visit will not be complete without a trip to the Howell Works Company Store Museum and Gift Shop or the Howell Works Bakery for some fresh baked "flat cakes."
The children of the village demonstrate popular games of the time as well as the chores which prepared them for later life.
Visitors can also experience, first hand, what it was like to be in a 19th Century militia unit, attend a re-enactment of an authentic 19th Century funeral and learn the mourning customs of the time or help celebrate the wedding of James Allaire's daughter Maria Haggerty Allaire. Guided tours of the Allaire Home (recommended $1.00 donation per person) will provide guests to The Village a glimpse into how an affluent family of the period lived.
The Historic Village also plays host to Holiday Candlelight Tours, Haunted Hayrides, a 19th Century All Hallows Eve celebration and a Thanksgiving Celebration complete with an authentic Church Service of the time.