Alpine County Museum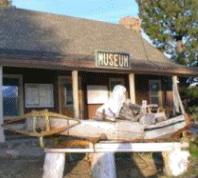 The Museum contains displays of an old country store, a blacksmith shop, Washoe Indian basketry, watch maker's desk, doctor's black bag with tools, supplies and medicines, mining exhibit, pioneer family exhibit, toys and dolls, clothing, photographs, paintings, and relics from prehistoric sites.
Features of the complex include the historic and newly restored silver ore stamp mill, Old Webster School - a one-room school, which was built in 1882, abandoned as a school in 1929, and restored during the 1960's, and the Old Log Jail - a unique structure made of hewn logs of various dimensions, containing two hand-riveted iron cells. The cells were originally located at Silver Mountain City and were moved to Markleeville in 1875.