Alutiiq Museum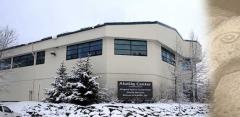 The Alutiiq Museum, located on the first floor of the Alutiiq Cultural Center, traces the 7,500 years of the Alutiiq people of southern Alaska. To help preserve the culture and language of the Alutiiq people, the center engages in campaigns to teach the Alutiiq language while museum staff and volunteers have undertook significant archaeological projects in and around Kodiak. 
Russian traders first interacted with Alutiiq natives in the 18th century, and the Russians declared Kodiak as the capital of Russian Alaska. Many Alutiiq learned Russian as they interacted with the Russian fur traders and sailors.
In addition to its exhibits chronicling the history of the Alutiiq people, the museum also displays the natural history of Kodiak Island, including its wildlife and marine populations.