American Heritage Archives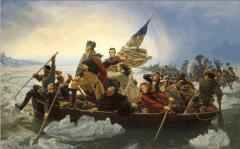 The American Heritage Archives contain thousands of original drawings, paintings, and photographs that touch upon every period of American history.
This online collection presents a carefully curated selection of records from the archives.
It includes depictions of Revolutionary soldiers in a variety of uniforms, drawings and photographs of the Antietam Campaign of the Civil War, portraits of Andrew Jackson, political cartoons, pictures of early 20th-century Ford Motor Company plants, and photographs of the Wright brothers' halting progress towards flight.