The American Independence Museum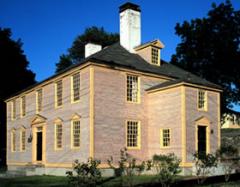 In 1985, a Dunlap Broadside of the Declaration of Independence was found in the Ladd-Gilman House. This amazing discovery is now a major focus of the museum's collections and programming. The museum was founded in 1991 to display this rare document and teach visitors our nation's founding principles.
Museum collections include two rare drafts of the U.S. Constitution as well as an original Purple Heart, awarded by George Washington to soldiers demonstrating extraordinary bravery. Exhibits highlight the Society of the Cincinnati, the nation's oldest veterans' society, and its first president, George Washington. Permanent collections include American furnishings, ceramics, silver, textiles and military ephemera.