Fort Pulaski National Monument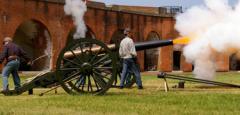 The Battle for Fort Pulaski in April 1862 marked a turning point in military history. It featured the first significant use of rifled cannons in combat.
These accurate, long-range weapons shattered Fort Pulaski's walls from over a mile away. After thirty-hours of bombardment, the fort surrendered.
The battle surprised military strategists worldwide and signaled the end of masonry fortifications.
Fort Pulaski National Monument offers visitors the chance to experience many interesting and exciting activities year-round.
Fort Pulaski itself is a large-scale outdoor exhibit. The main structure, together with outlying works including demilune, drawbridges, ditches, and dikes, is a fine example of historic military architecture.
Indoor exhibits highlight the history of Fort Pulaski from the fort's construction, to its eventual fall due to advancing military technology.