Constitution Island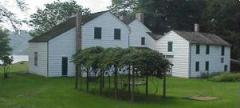 In 1778, less than halfway through the Revolutionary War, the Americans were able to forge a huge iron chain which they successfully stretched across the Hudson River from West Point to Constitution Island. For five years the 80-ton chain kept the British warships from attacking the inhabitants of the upper Hudson Valley. West Point was the new site of the forts built by the Americans in January 1778 and where the chain was stretched across the river to Constitution Island, Colonel Thaddeus Kosciusko directed the construction at West Point and, on Constitution Island, built three redoubts and a battery to protect the east end of the great chain.
The old house on Constitution Island was home to the Warner family from 1836 to 1915. Susan and Anna Warner were well-known writers in the nineteenth century. Susan wrote The Wide, Wide World in 1850 which became a best seller of its day. Anna is best known for writing the words to the hymn Jesus Loves Me. The sisters taught Bible classes to West Point cadets for forty years. The oldest part of the Warner House includes a thick stone wall existing from Revolutionary War days. The Victorian wing of eight rooms was built by Henry Warner in 1836 when he moved his family from New York City to the island.
The house is furnished with original Warner family possessions. The Warner House and ruins of the Revolutionary War fortifications are both primary points of interest. The island's 280 acres are covered with hiking trails that visitors can enjoy.