Ah Tah Thi Ki Museum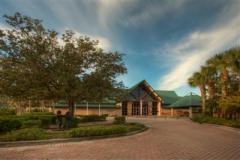 The Ah-Tah-Thi-Ki Museum on Big Cyrpess Reservation explores the history of the Seminole Indian tribe in southwest Florida.
Artifacts and exhibits attest to their historical legacy, while a living history Indian village at the end of a scenic nature trail vividly displays the culture of the Seminoles.
Museum exhibits and rare artifacts show how the Seminole lived in the Florida swamps and Everglades. The museum film, 'We Seminoles,' tells their story in their own words, including their dramatic struggle to remain in Florida.
Nature trails will take you throughout the beautiful 60-acre cypress dome to a living village. The museum also has interactive computers, and a Native American gift shop.
This online collection spotlights the Museum's impressive collection of Seminole baskets and postcards.