Fort Michilimackinac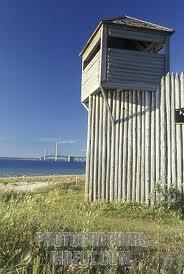 Much of this site is geared toward young children. Kids can pretend to be soldiers by dressing up in military uniforms and wash laundry with a washboard and a tub.
Lift a fur bale, stand on a giant ground map of the Great Lakes fur trading routes, and zoom down a slide in the Kids' Rendezvous Interpretive Playground. Be a voyageur in a reenactment. Witness an ongoing archaeological dig. With 13 authentically reconstructed buildings, interactive displays, and demonstrations such as open hearth cooking, Native American crafts, and cannon and rifle firings, the entire family--and especially kids-- will be engaged. Located in Mackinaw City.
Many exhibits are interactive and hands-on, offering the ability to see, touch and hear. With 13 historically reconstructed buildings and dozens of indoor and outdoor exhibits, there's plenty to experience. All buildings are accurately reconstructed, based on archaeological excavations, in their exact historical locations.