Amory Regional Museum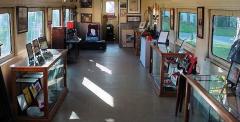 A visit to the Amory Regional Museum is a trip down memory lane. Beginning in 1916 as Gilmore Sanitarium, the building served as home to Amory's first hospital, and is now a MS Historical Landmark. Serving as a museum since 1876, it is here where visitors will be taken to the very roots of Amory to learn about railroad heritage and how it affected the growth and development of the town in so many, many ways. Also, it is here where visitors will hear the stories about the individuals who have had such an impact on the commercial, cultural, and religious aspects of Amory.
A trip to the museum would not be complete without a visit to our Regulator log cabin, built in the period 1838 – 1840, the "Birth of Blue Suede Shoes" exhibit or the "Pasadena Hills" No. 1251 Passenger Coach.